Happiness Contained
One could describe the flowers in this article's list as captivating, charming, cheerful, and coquettish. Obviously, this time will look further into more beautiful blooms – flowers that start with C.
These enchanting plants, like the two preceding articles, will add a distinct elegance and beauty to any room or garden.
It's especially relevant when you feel that room or particular spot in your garden seems sad or lifeless. You'll only need one or two stunning flowers. One or two blooms will shine brightly with life and even hope.
12 Stunning Flowers That Start With C
1. Cacti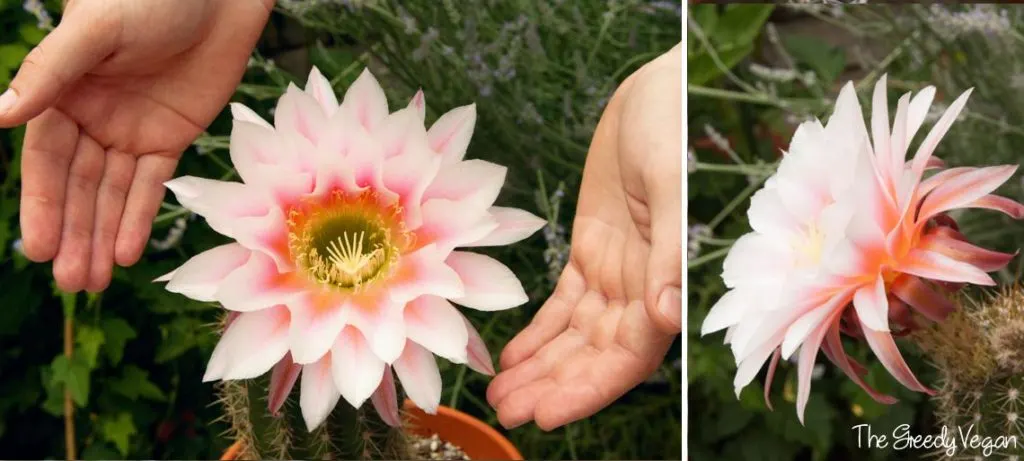 Botanical name: Echinopsis
Plant Type: Succulent
Bloom time: Summer, when temperatures are highest
Don't let the harsh and spiky exterior of a cactus fool you. Many of its varieties, most especially the echinopsis cactus grow surprisingly big flowers. From relatively small buds that quickly grown and then seemingly explode in a massive burst of color.
Cacti's captivating flowers bloom late at night at typically lasts just a day or less, making these moments even more special and enchanting. You can see this amazing process in the image below.
Because of the cactus flower's elusive nature, people will connect them with different emotions and meanings. Some may see them symbolizing the attraction between two people. Others would say they signify the loneliness of the desert and it's endurance for its inhospitable environment.
2. Camellia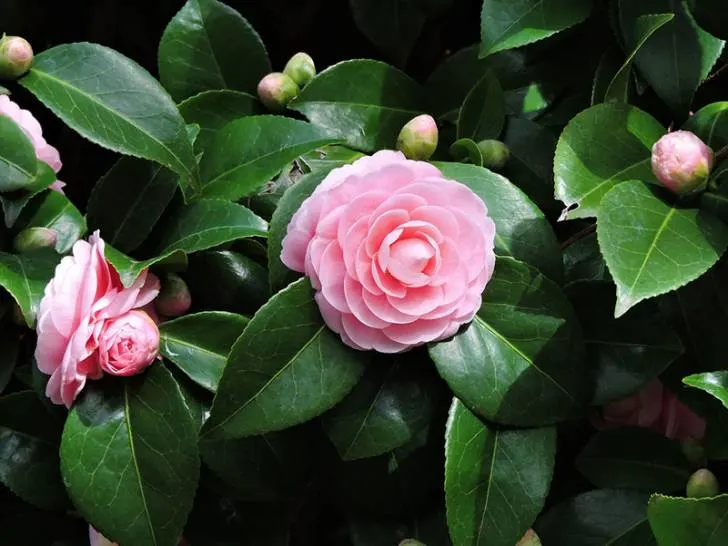 Botanical name: Camellia japonica
Plant Type: Perennial
Bloom time: Late winter to early spring
The spectacular bloom of the Camellia, specifically the camellia japonica, seemingly welcomes spring with wide open arms. The plant blossoms rose-like flowers in many different shades of pinks, reds, yellows, and purples.
The breath-taking flower of the camellia japonica represents perfection, sublime loveliness, passion, and excellence.
3. Carnation
Botanical name: Dianthus caryophyllus
Plant Type: Herbaceous Perennial
Bloom time: Spring
Carnations are one of the oldest cultivated flowers in history. The ancient Greek botanist Theopharastus gave the carnation its scientific name, dianthus, meaning Flower of God. C
Carnations represent undying love and support, most especially, that of the unbreakable love that a mother has for her children.
4. Cherry Blossom
Botanical name: Prunus serrulata
Bloom time: Fall to Spring
Although technically a tree, one cannot miss the legendary and storied beauty of cherry blossoms. More popularly known in Japanese culture as the Sakura blossom from the Japanese cherry tree. What's more, the Japanese tradition of picnicking underneath blooming cherry blossoms is centuries-old
The Cherry Blossom is closely linked to the wistful thought of the impermanence of life. Also, it's a powerful reminder to make the most of our lives, before the last cherry blossom falls.
5. Chrysanthemum
Botanical name: Chrysanthemum
Plant Type: Herbaceous Perennial
Bloom time: Early Fall
Affectionately called "mums," chrysanthemum flowers are a popular choice for bouquets and special events. Although diverse in its 30 species, the most special would be the yellow variety; aptly so as its name means golden flower.
Mums, especially the yellow variety, symbolize the loyalty, trust, and support found in the closest of friendships.
6. Crocus
Botanical name: Crocus
Plant Type: Perennial
Bloom time: Spring and winter
The crocus flower boasts modest yet classy colors of purple, lilac, and mauve. This hardy perennial is one of the first to break through the snow in winter. How? Despite the deep cold, its petals push through think snow to greet the warmth of the sun, once again coloring the stark white landscape.
The crocus represents happiness and positivity, despite trials, tragedy, or despair; breaking through the cold times of life. It's a powerful reminder that through any dark difficulty, there will be light at the end.
7. Catchfly (Night-Flowering)
Botanical name: Silene or Silene Dioica
Plant Type: Perennial (but mostly grown as annual)
Bloom time: Summer to Fall (May to September)
Catchfly makes a charming welcome with its beautiful and vibrant lavender flowers. This stunning flowering plant is native to Europe and is easily grown in areas with moderate weather.
Partial to full sun exposure is needed for it to blossom abundantly. Although it is perennial, this can be considered an annual type in colder regions. Other names known for this are Catchfly Plant, Sweet William, None So Pretty Flower, and Campion.
In addition to lavender, catchfly has species (about 700) that produces flowers in pink, magenta, red and white. Flowers bloom about 3/4 to an inch across. The average height of the plant extends from 1.5 feet to 2 feet. Despite its eye-catching look, this flower is unscented.
Catchfly flowers can indicate youthful love.
8. Cinquefoil
Botanical name: Potentilla
Plant Type: Perennial
Bloom time: April to October
Belonging to the Rosaceae family, Cinquefoil is a deciduous perennial shrub that produces yellow to creamy white and sometimes red small flowers. There are about 300 species of this, and mostly are native to the Arctic and other north temperate regions.
The height of this flowering plant reaches from 2.5 feet to 6.5 feet. To grow taller and blossom abundantly, it has to be exposed to partial or full sun. It can last all summer long up to early autumn.
Flowers feature five petals. Although small in size, this makes a beautiful flower bed.
Since the name refers to as "Five Leaf", Cinquefoil symbolizes the five senses. It can also indicate natural beauty and womanhood.
9. Clove Pink or Carnation
Botanical name: Dianthus Caryophyllus
Plant Type: Perennial
Bloom time: May to 8 weeks
Believed to be native to the Mediterranean, which include Spain, Italy, Greece and Croatia, Clove Pink, which is most popularly known as Carnation, is a herbaceous perennial flowering plant.
It can grow up to 3 feet tall. It typically has greyish green, sometimes bluish green, leaves. Its flowers are produced singly or in a cyme of five. It produces beautiful almost paper-like flowers in pink, purple, red, yellow, green, and white. This is sweetly scented, which makes it a perfect gift for special occasions.
Pink carnations indicate gratitude, while the red ones refer to love, affection and admiration. The white ones symbolize purity as well as luck.
10. Columbine
Botanical name: Aquilegia
Plant Type: Perennial
Bloom time: Mid-Spring to Early Summer
Granny's bonnet is the other term referred to Columbine, a herbaceous perennial plant that is typically found in woodlands and meadows, particularly in the Northern hemisphere.
This flowering plant has 60 to 70 species. It is popular for its spurred five-petaled and bell shaped flowers, which similarly look like orchids. Requiring partial shade and almost any type of soil, this produces red, purple, pink, yellow, orange, blue or white flowers. It usually attracts bees and hummingbirds.
Wisdom and intellect are significant symbols of Columbine flower. It also holds a meaning to Christianiy, being represented as one of the seven gifts from the Holy Spirt. Other believed symbols include strength, ironically fear, and piety.
Columbine plants are herbaceous perennials.
11. Coltsfoot
Botanical name: Tussilago Farfara
Plant Type: Perennial
Bloom time: March to June
Coltsfoot is also known as Coughwort, and is native to Europe and Asia. It belongs to the daisy family known as Asteraceae with the botanical name Tussilago Farfara, in which the word "tussilago" is derived from Latin "tussis" meaning cough, to cast or act on, and ago.
This herbaceous plant produces charming yellow flowers featuring florets and an outer row of bracts, often resembling dandelions. The flower is small with a measurement of 1.5 centimeter.
It blooms in spring but surprisingly dies before any leaves appear. It has a bitter pungent scent. This is well grown in wet and/or poorly drained areas, which may include riverbanks.
In ancient Greece, it's believed to have a symbol of the residence of an herbalist.
12. Crown Imperial
Botanical name: Fritillaria Imperialis
Plant Type: Perennial
Bloom time: 2 to 3 Weeks during Spring
Crown Imperial, otherwise known as Imperial Fritillary and Kaiser's Crown, is a unique, attractive flowering plant belonging to the lily family. It is native to the Middle East, which includes Turkey, and the Himalayan foothills, and is naturalized in Sicily and Austria.
As its name suggests, the epithet "imperialist" refers to "of the emperor", which indicates the large circle of golden flowers that resemble the crown of an emperor.
This plant produces a crown-like flowers in red, orange and yellow with a stalk that is 3 feet tall. The flowers face downward making it more unique and attractive. However, it has an unpleasant scent, and for this reason, it is recommended to plant a few feet away from windows or outdoor sitting areas.
This plant produces a crown-like flowers in red, orange and yellow with a stalk that is 3 feet tall. The flowers face downward making it more unique and attractive. However, it has an unpleasant scent, and for this reason, it is recommended to plant a few feet away from windows or outdoor sitting areas.
More articles about flowers: