Imagine those erect, spiky tall perennial flowers that bloom in full during spring and summer. These make a perfect, dreamy landscape for sure. Regardless how small or spacious there is, a garden full of beautiful tall perennials that are flower producing becomes worth going home for any time.
Whether you want to plant tall growing flowers around your house or garden, this is an idea that is not easy to resist. And if you're wondering which tall flowering perennial plants to consider, here is a list of great choices.
22 of the Pretty Tall Perennial Flowers
1. Boltonia
Boltonia is commonly known as a false chamomile as it looks like a chamomile with its small daisy-like flowers. It is a perennial flower that grows up to 5 or 6 feet tall typically in meadows, prairies and stream banks.
But as one of the tall perennial flowers, this is easy to grow and care in home gardens. It thrives best in zones 3 to 10. It makes a perfect floral border that blooms in summer to early fall.
2. Bugbanes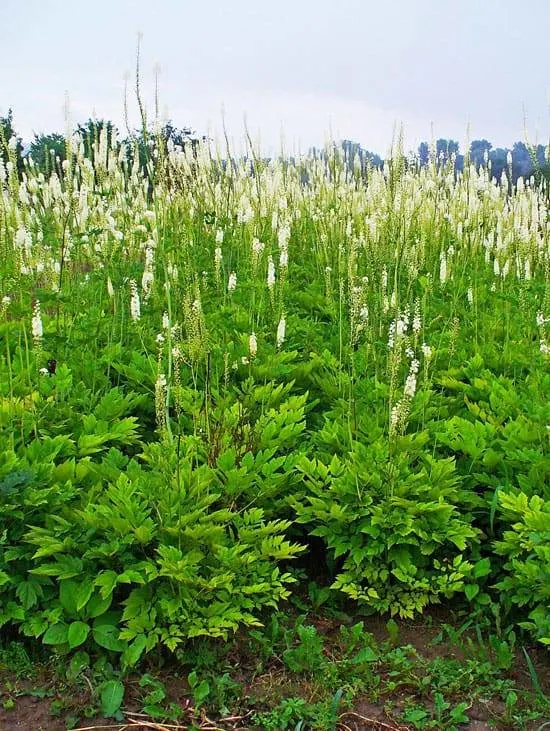 Nicknamed as the "Hillside Black Beauty," bugbane is another tall perennial flower you can sow around your yard. This plant produces racemes of small, cream and white flowers, although some variants are deep purple.
It usually blooms in the summer, during the last weeks. The flowers have a good scent making it another perfect choice to grow.
As included among the tall perennial flowers that produce flowers, this plant grows from 3 feet to 4 feet. It is able to tolerate any soil from hardy zones 4 to 8. Its foliage and tall height do not only create a lovely backdrop but also build an instant cover.
3. Canna
Add a little tropics to your garden or landscaping yard with canna lilies. It is another tall perennial flowering plant that reaches as high as 6 feet.
This plant thrives in zone 7 and can survive in winter. With basic care and maintenance, it grows with paddle-shaped green leaves and colorful lily flowers, usually in yellow, orange, red, cream, and some can be bi-colored or tri-colored.
4. Chimney Bellflower
Among the tall perennial flowers that should be easy to identify is the chimney bellflower. It is a plant that features bluish purple, bell-shaped flowers that produce from its chimney-shaped stalks with triangular green foliage.
It grows up to 5 feet tall. This tolerates soil in hardy zones 4 to 8. Enjoy its full bloom in summer through fall.
5. Common Foxglove
For some inviting blossoms, foxgloves, also known as common foxgloves, are a great choice. As one of the tall perennial flowers, this plant grows from 2 feet to 8 feet high showcasing tall green stalks with beautiful purple trumpet-shaped flowers atop them.
There are also variants that produce rose colored flowers. It is a plant ready to be grown in any zones between 4 and 8.
6. Cutleaf Coneflower
Cutleaf coneflowers are not the same as the common coneflower. However, this comes from the family that includes black-eyed Susan flowers, which resemble a little feature with its yellow petals.
This grows really tall, towering up to 9 feet. It is an absolutely great choice to add cover and backdrop around your space.
7. Delphinium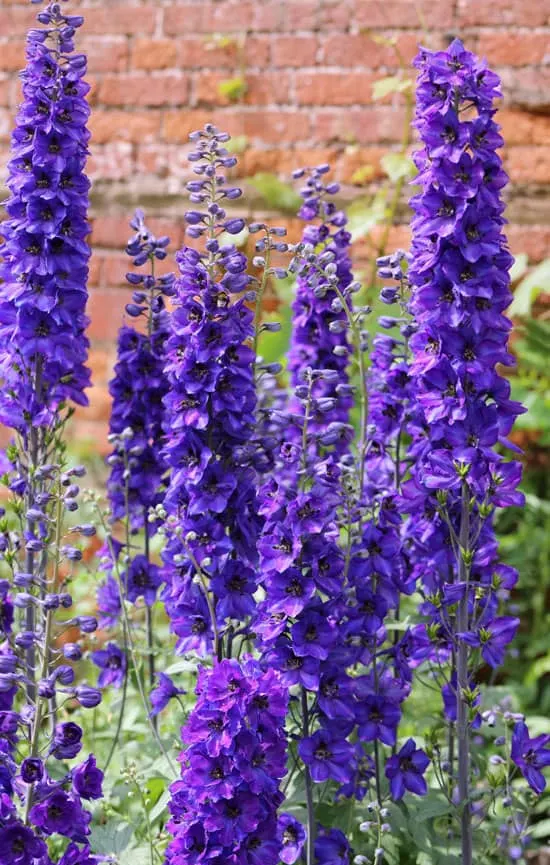 If you really like tall perennial flowers, Delphinium is an excellent plant to grow. It can reach a height of 6 feet. But what amazes visitors is its spikes of purple or blue flowers. There are also variants that produce white and pink colored petals.
8. Desert Candles
Garden or home, you'd be surely attracting strangers to your place if there are desert candles around. The breathtaking cylindrical stalks with tail-like clusters of small, pretty and scented flowers give a wonderful view, making it Instagram worthy.
From the stalks to the top most flowers resemble a candle; hence, the name. This is perfect for zones 5 to 8. However, it needs to be an area where there is less frequent windy condition, as it cannot tolerate it. The importance of this is to keep the plants, especially the flowers, in tact.
9. Elecampane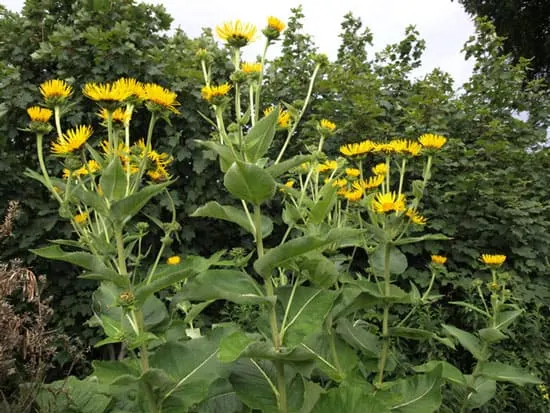 The bright yellow flowers of elecampane can provide charm, lightening up any mood too. It is an ideal option for a spacious garden for its wild foliage. This is easily grown in zones 3 to 7. It is also known as horse-heal and elfdock.
Apart from its sunny flowers, this plant is commonly used as herb for medicinal purposes. It has properties that can prevent and alleviate ailments that affect lungs, including asthma, common cold, cough and bronchitis.
10. Helenium (Sneezeweed)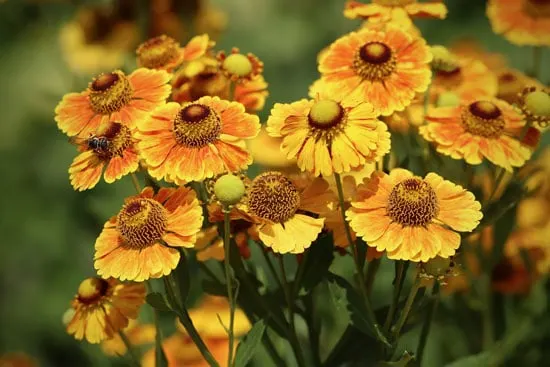 Sneezeweed is a most commonly called name that refers to helenium. As one of the tall perennial flowers, this grows from 3 feet up to 5 feet.
It produces beautiful flowers in shades of orange, yellow, red and sometimes brownish red. You may absolutely plant seeds in different varieties based on hues to create a more stunning and colorful garden.
11. Hibiscus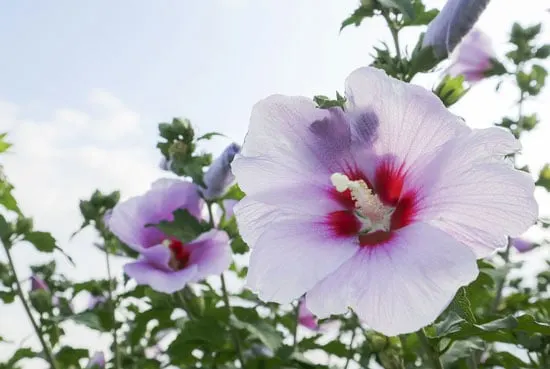 Among the tall perennial flowers in the shrub category that is easy and manageable to grow is hibiscus. It gives a tropical vibe to any garden and with its large, beautiful flowers blooming, it shows magnificence.
This extends as high as 7 feet to 9 feet tall, while a single flower can become as big as 12 inches wide. You can pick any variant as it offers a wide range of colors, including white, yellow, orange, pink, red, and purple.
12. Hollyhock
Another flowering plant that comes in different shades is the hollyhock. Some varieties produce common colors, such as white, yellow, pink, red and purple. Others are a combination of two colors.
This grows from 5 feet to 8 feet tall. It attracts butterflies and hummingbirds. It is a great option for outside wall cover.
13. Globe Thistles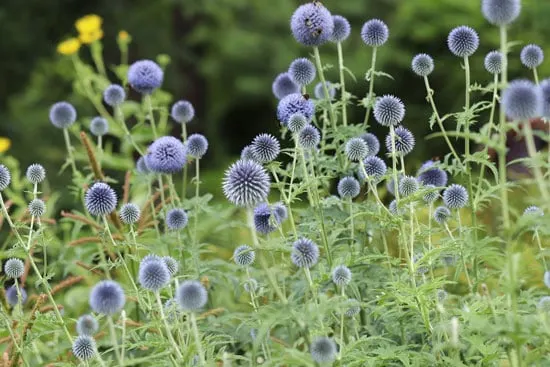 Make your little garden look more whimsical and captivating with globe thistles. It is one of those really unique, eye-catching tall perennial flowers you can grow.
It tolerates soil belonging to the zones 3 to 8.Echinops is the genus name of this plant that comes from the Greek word that means "hedgehog", obviously referring to the thistles.
Those thistles make up the perfect ball shaped bloom of this plant. It is grayish blue in color providing a more pleasant look.
14. Joe-Pye Weed
If you prefer a feathery, fuzzy flowering plant, Joe-pye weed is an excellent choice. Standing from 4 feet to 7 feet high with a width of 4 feet, this tall perennial plant produces florets in pink-purple hue with a vanilla-like scent.
It can attract butterflies, which make your little garden more pleasant. This tolerates hardy zones 4 to 9.
15. Maximillian Sunflower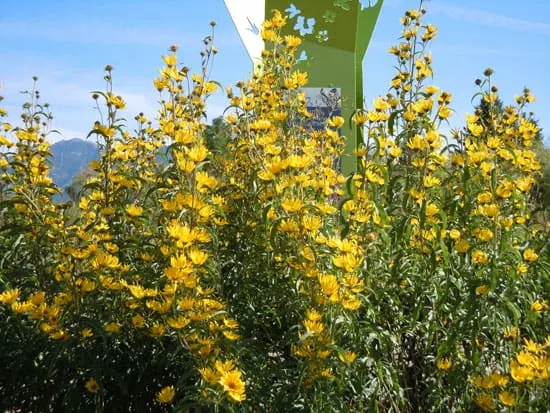 For the best blooms, maximilian sunflower makes a perfect addition to any yard. The bright yellow flowers that appear in summer through fall can give a livelier feel contrasting the greens around. As one of the tall perennial flowers, this can grow from 4 feet to 7 feet high.
16. Meadow Rues
Meadow rue, also known as lavender mist, provides a different scenery with its purple or lavender blooms. Instead of the usual petals, this one has a thin spoon-like structure.
It grows in zones 4 to 7 and stands about 6 feet high. You can this to make your home garden a field of lavender colored flowers.
17. Monkshoods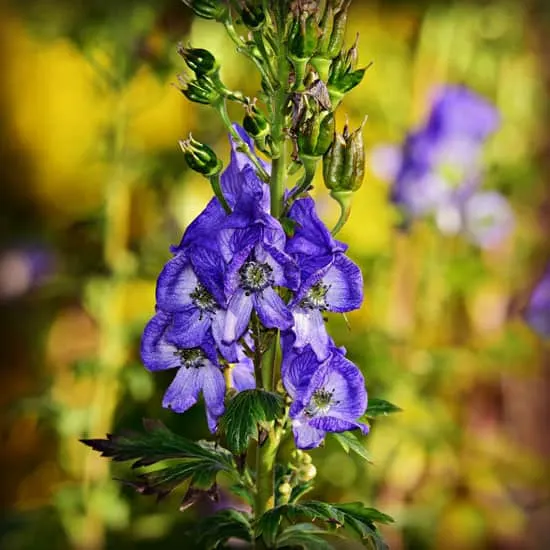 With the racemes of beautiful bluish purple flowers, Monkshood should be added to the list of great choices of tall perennial flowers.
This is an easy option if you like this shade, but its contrasting hue against the usual green can surely make a lovely picture.
From zones 3 to 7, this is able to grow fast and tall up to 5 feet. But all parts of this plant is poisonous, which makes it not friendly to kids or pets.
18. Oriental Lily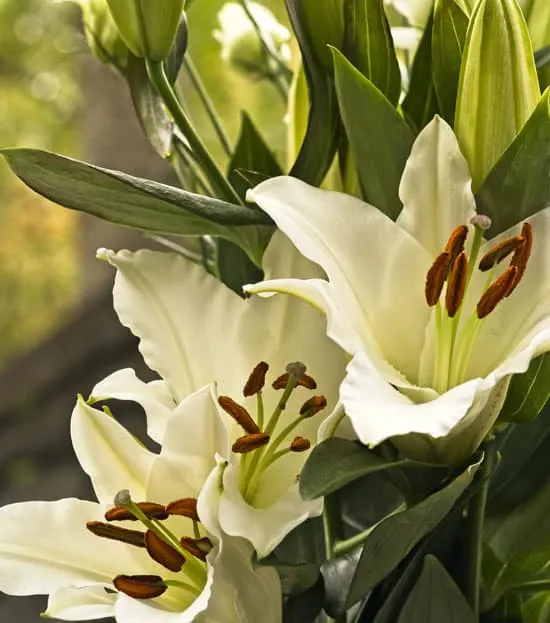 For pretty flower arrangements among tall perennial flowers, oriental lilies should be an easy choice. This plant does not only have long stalks but also big, showy flower heads.
They are typically in pink with some freckles, but some varieties are in red, white, yellow, orange, raspberry purple. Overall, it can grow as high as 6 feet.
19. Plume Poppy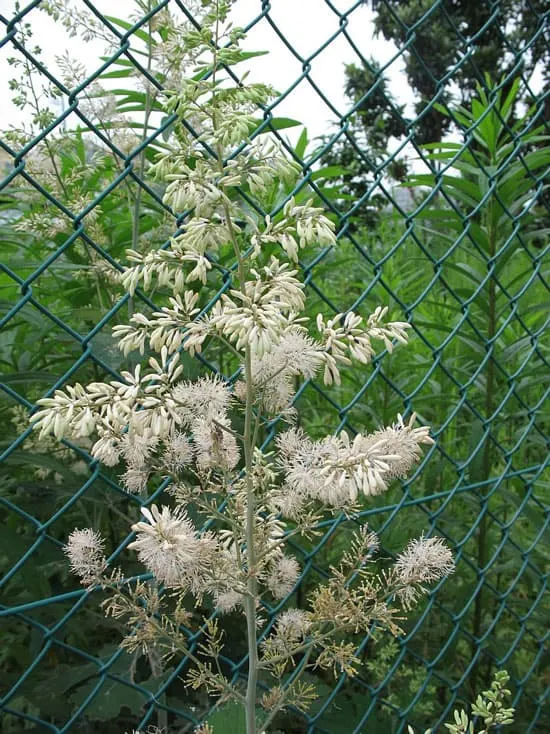 The creamy white flowers of this plume poppy make a slight contrast, but perfect cover for borders, walls and fences. It extends from 5 feet to 8 feet. This grows in zones 3 to 8. It may not be as common as the other tall perennial flowers, but this is worth growing for due to its low maintenance.
20. Red Hot Poker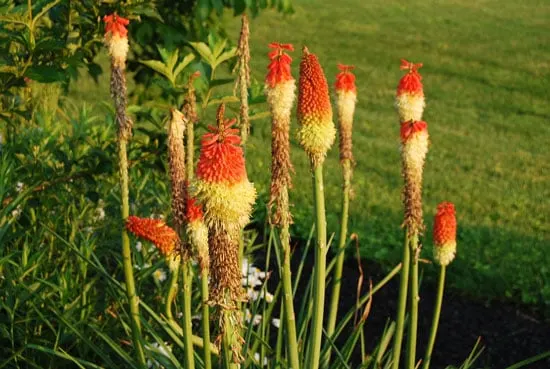 The blend shades of yellow, orange and red of the flowers is a distinctive feature. That's how the red hot poker presents itself for any home garden.
Its foliage is grayish green and grassy, but once its blooming season starts it provides a lovely view with its spikes of tube-shaped pretty flowers. This is one of the unique tall perennial flowers you can grow. It stands up to 4 feet tall.
21. Valerian
Valerian offers clusters of tiny, lovely, dainty and lacy flowers in white or pink shades. They look like baby's breath but a little larger. Standing up to 5 feet high, this easily thrives in zones 4 to 9.
Apart from its blooms, this also provides health benefits through its roots. This part of the plant is often used as medicinal tea that helps promote better sleep. It also has the good side effects of providing relaxation and reducing anxieties.
22. Wild Senna
Add an unusual wildflower plant with the wild senna. As one of the tall perennials, this reaches maturity with a height of 3 to 4 feet tall. It blooms well in zones 4 to 8. Its green foliage can cover a section of any yard or garden, and its yellow flowers create a stunning view.
---
Conclusion
Each of these 22 tall perennials has specific and unique features that make them stand out on their own. They create a different beauty and charm when planted in a garden, whether for personal or commercial purposes.
By figuring out their technical and scientific criteria, it should be much easier to choose the right perennial flowers to grow. Once your soil condition is identified, you can reduce the options, making the whole process a little more enjoyable and time-saving.
Which of these beautiful tall perennials catch your attention more? Each and every flower has great benefits to offer that are not quite easy to resist, most especially if you are fond of plants that produce pretty blooms.