If you have grubs crawling around in your soil, they can harm your plants. That might sound terrible if you plan to grow vegetables. Before selecting a grub control product, you must first determine the type of grubs in your yard since not all grub control products are effective every season.
Before applying any form of insecticide to your grass, make sure the problem is grubs. Other bugs like European chafers and Japanese beetles produce larvae that stay in the soil.
If you don't have the right product to treat grubs or bugs in your soil, you might face the risk of wasting your time and money.
Let's look at two of the best products for controlling grubs: Scotts Grubex vs. Bayer Grub Control.
Overview Of Scotts Grubex & Bayer Grub Control
1. What is Scotts Grubex?
Scotts Grubex is a grub control product combined into a granular form specifically meant to work well with other Scotts products. In addition, it can be fed through the brand's many spreaders for thorough and even distribution.
Scotts Grubex is made to control the grub cycles of six of the most frequent and harmful insects, including the infamous Japanese beetle with its white grubs.
Furthermore, this product has been said to have the added benefit of forcing moles, crows, and other small predators away from your grass.
Scotts Grubex can be used in the spring or early summer and is expected to protect your lawn for up to four months. However, it is recommended to use this product in the fall for specialized cases like crane flies.
If you do, keep in mind that the treatment will most likely be neutralized by winter precipitation. Then, you might need a second application in the spring.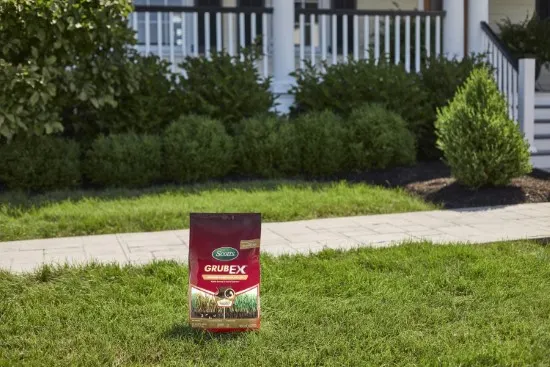 Scotts offers a four-month guarantee on their products and produces solutions ranging from 5,000 to 10,000 square feet. It is safe to use with other Scotts lawn care products and will not harm beneficial organisms or animals.
2. What is Bayer Grub Control?
Bayer Grub Control distinguishes themselves by combining the grub killer with a revitalizing compound that acts as a fertilizer. By joining effectively two items in one, this product saves the user time and work and wears on potentially damaged turf and wasteful spreader passes.
Bayer sells grub control products in granular and liquid forms, making them convenient to use in a wide range of dispensers and distributed over a broader area.
This product is marketed as "seasonal" grub control, and it lives up to its term. There have been numerous accounts of Bayer products lasting all summer with only one application.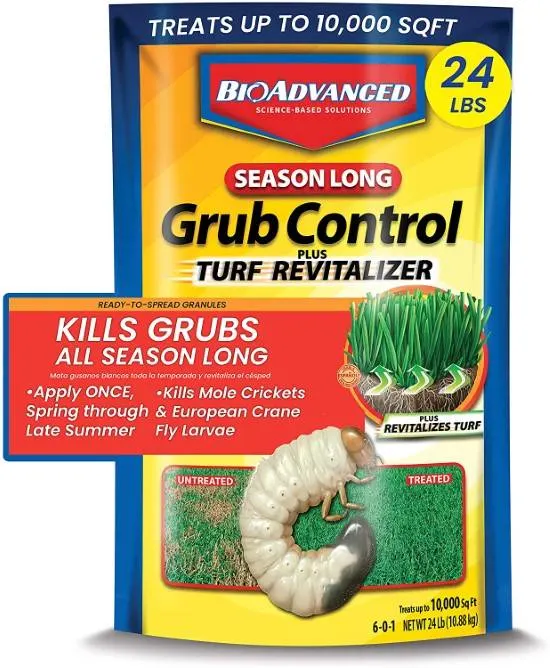 It provides a nice deterrent to other pests by removing their feeding source. Crows, moles, and other foraging creatures will find nothing to eat. Therefore, it will drive them away from your grass.
This product is designed to protect up to 5,000 square feet of prevention. Along with pesticides, there are considerable amounts of chemical stimulants that will kick-start moss and grass regrowth.
>> Related Post:
What Do Scotts Grubex And Bayer Grub Control Have In Common?
Both are available in a ready-to-use granular composition that may be applied with a hand or push spreader, based on the scale of the area to be treated.
Bayer Grub Control and Scotts Grubex are both effective against turf-destroying white grubs. Plus, it's also noticeable to mention that both of these products will kill a wide range of other insects and grubs, including beneficial bugs.
Both types of insecticides are available in various bag sizes and as a granular formula that can be readily dispersed around your lawn by hand or with a push spreader. They both kill a variety of insects and are beneficial for all types of grass.
4 Key Differences Between Scotts Grubex Vs Bayer Grub Control
1. Area of Application
Scotts Grubex is available in a variety of bag sizes. You will receive a 10-pound bag, a 14-pound bag, and a 28.7-pound bag. The proportion we need to employ on the grass is significantly higher than the Bayer Grub controller. A 15-pound Scotts Grubex bag is required for every 5000-square-foot area.
This will be ideal for long-term prevention and proper killing operations of various grub species. If you use less than this proportion, the outcome may be unsatisfactory. To achieve the best results from Scotts Grubex, you need to stick to this proportion.
Bayer Grub Control needs a low amount of ingredients to give you the best result. So for every 7500-square-feet area, you will only need a 10 lb Bayer Grub Control. That means Bayer will offer you double active products to have better protection for your lawn.
You may also use less than this proportion, but the result won't be guaranteed. So you should stick to the rules and do as the instructions say.
2. Percentage of Active Ingredients
Scotts employs Chlorantraniliprole to keep grubs under control. Chlorantraniliprole is a poisoned substance that contains parts of the ryanoid class. This active ingredient first immobilized the insects before killing them.
The active component in Scotts is 0.08 percent Chlorantraniliprole. This mainly aids Scotts Grubex in keeping grubs off the lawn.
Bayer Grub controller, unlike Scotts Grubex, uses Trichlorfon to prevent the grubs. It can also help the lawn to be greener and healthier.
Trichlorfon has a high active element in Bayer Grub Controller. Every unit contains more than 9.3 percent Trichlorfon. In terms of the active component ratio, the Bayer Grub controller is superior. Therefore, it is more effective for the lawn.
3. Time of Applying
Scotts will show its effect lasting four months after only applying once. That means you need to apply for Scott Grubex every four months throughout the year. However, Scott Grubex attacks most of the time throughout the summer. So, if you can use it before summer, Scotts will be more effective.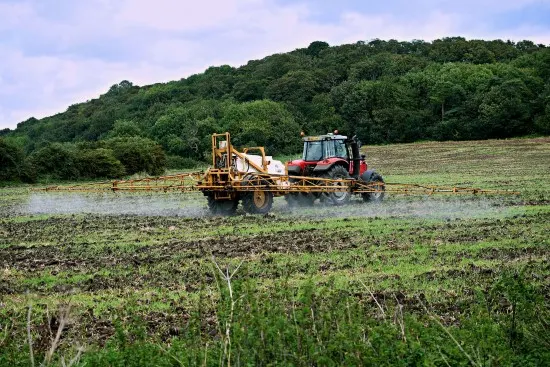 Bayer Grub controller is more effective than Scotts since it is used for the lawn all season. So you need to use it once at any time in a year.
Bayer begins work within 24 hours. It will immediately kill the grub after applying it to the lawn. Because of the quick action of this grub controller, you can use it whenever you see a grub attack on your lawn.
If you notice anything wrong with your grass and suspect its cause is grubs, you can spray it right away.
4. Price
Scotts Grubex is sold at different prices by various sellers. However, the company's fixed price for this product is nearly 26 USD. That means you should not spend over that amount of money, or you might get scammed.
The Bayer Grub Controller is also reasonably priced. However, this product is also less expensive than Scotts Grubex. Bayer Grub Controller is priced at $20.
Scotts Grubex Vs Bayer Grub Control: Which Will Prevail?
Both of these two products are excellent choices for killing those annoying insects in your garden. But choosing one between the two of them might take you some time to consider carefully!
Bayer Grub Control should only be used at first sight of grubs or other insect pests. Grubs and other insect pests will be eliminated when they come into touch with the product providing that you water in the granules.
If grubs infest your grass, act quickly before the grubs damage your lawn. Scotts Grubex and Bayer Grub Control should be used exactly as stated on the package.
---
FAQs
1. When should you put down GrubEx?
The ideal time to apply GrubEx is from early spring to mid-summer when grub activity in lawns is at its peak. However, fall may not be the best season to implement grub control.
2. What is the best time to treat for grubs?
It is best to treat in late summer or early fall when the smaller, small grubs are most vulnerable to nematodes. There is also a short window for treatment in early spring before the grubs get too large and pupate. But it will be harder to time properly.
3. Why do I have so many grubs in my yard?
Many lawn problems that look like grub damage are caused by something else, such as disease, drought stress, hairy chinch bugs, sod webworms, etc. For instance, many homeowners anticipate grub damage in the early spring because of the state of their lawn after the snow melts.
Conclusion
From our post on Scotts Grubex vs Bayer Grub Control, you can see that Both of these products are terrific treatments that are really powerful in killing a wide variety of common grubs that may be living in your soil. If you have a grub infestation, you must act quickly before the grubs damage your yard.
Scotts Grubex and Bayer Grub Control should be used exactly as instructed on the label. Because they are granules, they must be watered after being applied to the soil; this allows the formula to absorb into the soil and kill any grubs or larvae.