Elephant plants are a tropical perennial, that'll be perfect for you if you're looking for plants with larger leaves and gorgeous flowers. This is a fast-growing plant, as it will get to its maximum height in two months. The best time to plant elephant ears is in spring, once the last frost has passed.
You can also plant them as late as early summer. With three feet long and two feet wide leaves, these dramatic, exotic plants will add drama and dimension to your garden. That makes it frustrating when your elephant ears plant starts to droop. If you're asking yourself the question, 'why are my elephant ears drooping?', then you're in the right place.
In this article, you will find all the information you need to know about drooping elephant ears, the factors that cause them, and how to prevent and cure the issue. Keep on reading to find out more about 'why are my elephant ears drooping?'.
Why Are My Elephant Ears Drooping?
1. Under-watering
Elephant ears are intolerant to changing conditions. This plant is evolved to thrive in a constant and stable environment, which is why both under-watering and over-watering can damage the poor plant.
If you're under-watering the plant, it will start to store the water present in the leaves as a preventative measure. This causes the leaves to dehydrate and wilt. This could dry up your whole plant if you don't decide on a watering schedule that'll work for your elephant ear plant.
Solution
Increase the amount of water you're giving your plant. Water it regularly, at least once a week. When watering, make sure that it gets 3 to 4 inches of water every week. Elephant ears prefer soil that is wet but unclogged.
In summers, the plant will dry out. The elephant ear parent must water the plant every day and not let the soil dry out.
2. Over-watering
Receiving more water than necessary can be stressful for any plant. And elephant ears are more intolerant to extreme conditions than most plants. If your soil is clogged, the roots won't have air circulation, which will lead to difficulty in taking up nutrients and water.
As a result, the leaves of your elephant ear will begin to droop. Flooding the soil increases the chances of fungal diseases such as root rot. Soggy soil attracts pathogens to come and uses the roots as a host. These diseases can also cause the plant to droop.
If you're overwatering a plant, brown spots will start to appear accompanied by yellowing in the leaves. The leaves will start to have watery blisters and the plant will start giving off a rotting stink.
Solution
If you notice any of the signs mentioned above, reduce the watering. Make sure that the soil is dry before watering it again. If your soil feels clogged, drain out any excess water.
A product we'll recommend is YADSHENG Watering Can. Its thin nozzle will help you control the watering and it's available on Amazon.
3. Incorrect Fertilizing
Elephant ears are heavy feeders. That is why they grow as large as they do. Giving them enough fertilizers is extremely important for their growth and nourishment. If you're not applying the fertilizer correctly, your plant will droop.
Some common errors in fertilizing are:
Spraying it on the leaves
Using the wrong fertilizers
Over-doing the fertilizer
Solution
The ideal fertilizer for elephant ears is a 20-20-20 blend of phosphorus, nitrogen, and potassium. It should be a slow release. When feeding it, dissolve it in a gallon of water and mix it well. Do this once a month. Don't feed the fertilizer in winter, as the plant will be dormant during that season.
If your plant has already begun to droop due to over-fertilizing, flush out the fertilizer with tons of water. Applying organic products like Solimo Epsom Salt will also help nourish your plant.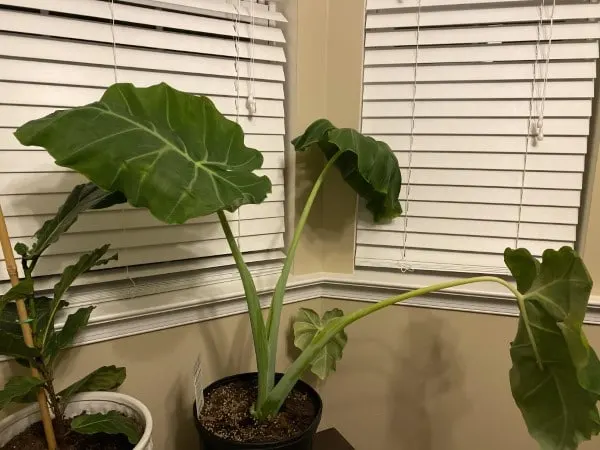 4. Incorrect Temperature
Elephant ear plants grow in tropical regions. They thrive in areas where the daytime temperatures are between 20 to 25 degrees celsius. That is why if an elephant ear plant is exposed to chilling and freezing temperatures, it won't react well.
A fluctuation in temperature can cause shock to the membrane, causing membrane damage. The cells will start to dehydrate. This can lead to the elephant's ear drooping.
Solution
Elephant ears thrive in indoor spots, where they have excess to the sun. Avoid putting them in bright, outdoor places and keep the plant away from any heating and cooling vents.
5. Low Humidity
Elephant ears are suited to areas where the humidity levels are above 60 percent. Due to low humidity, the plant won't get the required amount of moisture, which can cause the plant to dehydrate. This will lead to your plant drooping.
Solution
If you think your plant is drooping due to low humidity, we recommend you get your hands on LEVOIT Humidifiers for Bedroom. It's available on Amazon and will improve the health of your plant.
LEVOIT Humidifiers for Bedroom Large Room (2.4L Water Tank), Cool Mist for Home Whole House, Quiet for Baby Nursery, Adjustable 360° Rotation Nozzle, Ultrasonic, Auto Shut off, Night Light, BPA-Free
YOU DESERVE THE BEST. With a larger tank, quieter operation,the Levoit Classic 100 Cool-Mist Humidifier provides fast, comfortable relief from the ravages of dry air. Experience alleviation of congestion, sinus headaches, snoring, and dry skin.
ULTRASONIC "MICRO-MIST" TECHNOLOGY: Other humidifiers may make wet floors and soggy furniture. Thanks to advanced Micro-Mist Technology, the Classic 100 outputs a super-fine, virtually invisible cool mist. The moisture stays in the air, where it belongs.
PERFECT HUMIDIFIER FOR BABIES: BPA-free, and so quiet. Some humidifiers rattle, or hum noises. At under 21dB, the Classic 100 is quieter than a whisper. Also, you will love the soft, soothing night light; which you can switch off if you prefer.
CUSTOMIZE YOUR MIST. Direct the 360-degree rotating nozzle wherever you like, and select your preferred mist level with a simple control dial. Create an ideal indoor climate for the nursery, bedroom, everywhere. A single unit humidifies up to 290 ft².
2.4L EXTRA LARGE WATER TANK, AUTO SHUT-0FF. The oversized 2.4L tank delivers hassle-free humidifying all day and all night, and automatically shuts off before it runs dry. Just fill, turn it on, and breathe easy.
6. Too Little Light
Elephant ears thrive in bright, indirect light. If the plant doesn't get that, it will experience stunted growth. This can put the plant at the risk of over-watering and can cause the leaves to droop.
Solution
Put the plant in a spot where it gets bright and indirect light. Indoors, near a window is the perfect spot. It is recommended to rotate the pot every month for balanced growth.
Pests and Insects
Elephant ears are prone to pest and insect infestations. Pests such as mealybugs, spider mites, scales, thrips, and aphids can attack the plant. These infestations can lead to drooping in the plant.
Solutions
A mixture of neem oil and water can cure almost all pest and insect infestations.
---
Conclusion
The elephant ear is a beautiful and dramatic plant, which is bound to bring life to your garden. However, it isn't an easy plant to care for. It is intolerant to over and under-watering, low humidity, and too little light. It is even prone to pest and insect infestations.
However, these problems are easy to fix. By using the care techniques mentioned above, you will have a healthy and happy plant. Products like YADSHENG Watering Can, Solimo Epsom Salt, and LEVOIT Humidifiers for Bedroom will aid you during your struggle of 'why are my elephant ears drooping?'.
We sincerely hope this helps you. For any more questions, leave them in the comment section down below and we'll get back to you.