Whether you are looking for annuals or perennials, a list of more than a dozen of fast growing flower seeds that are suitable for home gardening is provided in this article. All that's left for you to do is to compare and choose.
It's understandable to want to see the flowers blooming as quickly as possible. The excitement and thrill of cutting flowers or simply enjoying their beauty within your surroundings cannot be ignored by some, especially for beginners. If this is simply a project that requires rushing, you are still in the right place.
Seeds that germinate in a quick few days and flowers that bloom within 6 to 8 weeks are very ideal. In 60 to 95 days, you can reap the satisfying result you crave. The rapid development and growth of flowering plants are that important.
Without further ado, let's take a look of the following fast growing flower seeds you want to have.
18 Fast Growing Flower Seeds
1. Bachelor's Button/Cornflower
Cornflower, which is otherwise known as Bachelor's Button, has a fast growing flower seed. It is also easy to grow and manage. It needs an area where there is enough sun as it normally self-seeds itself and naturalizes.
This plant offers cute, small as a button flowers in blue, almost purple looking. It is often pollinated by bees and butterflies. The petals are edible and remarkably home remedy for certain skin care.
Seed to Bloom Time: 3 months
2. Calendula (English or Pot Marigold)
Aside from their pretty orange, sometimes yellow, flowers, the petals of Calendula are used as a skin-care to healing herb and for cooking. It has one of the fast growing flower seeds you can rely on for quick harvesting.
Seed to Bloom Time: 7 to 9 weeks
3. Celosia or Cockscomb
The feathery, fire shaped flowers that also resemble brain corals are a unique kind. Hence, it is also known as Cockscomb. This annual flower has an array of colors.
These include red, pink, yellow and purple. Despite its unusual charm, this kind of flower is not as popular as sunflowers. However, it is one of those considered to have the fast growing flower seeds.
The seed of this flowering plant is very tiny, but quick to germinate at a high rate. In fact, it can self-sow in certain areas. When planting seeds, ensure the soil is rich, moist and well drained.
It prefers hardy zones 10 and 11. You may also grow them indoors for the first 6 to 8 weeks, especially before the last frost of the winter season.
Seed to Bloom Time: 7 to 9 weeks
4. Cosmos
For some fresh bloom, Cosmos doesn't disappoint. Growing at 1 foot to 3 feet, this plant has erect daisy-like petalled flowers. Its seed is among the fast growing flower seeds. It has color varieties that include white, pink, red and purple.
This flowering plant grows as annual in all types of zones. Simply sow in dry to medium moist, well drained soil, and in a sunny area during spring. It germinates by itself and you can observe just for a few weeks until the first flower production has appeared.
Seed to Bloom Time: 7 weeks
5. Hyacinth Bean
Hyacinth Bean is a type of vine that may not be as organized and neatly looking as some flowers. But considering its swift bloom production, this has one of the easy and fast growing flower seeds.
They are scooped out of the pods and sown in moist, well-drained soil in zones 10 to 11. Germination begins in almost 2 weeks.
With basic care and partial shade to full sun, it provides a pretty foliage showcasing rose purple, pink or white flowers.
Seed to Bloom Time: 3 months
6. Impatiens
Although tiny, one of the fast growing flower seeds you can also consider is Impatiens. In order to germinate much quicker, there has to be sufficient warmth, light, as well as moisture.
The best time to sow is 8 weeks before the last frost. It's best to have the seeds planted in a pot or container first before transferring into a permanent area. On average, it takes around 3 months for flowers to bloom.
The small, pretty flowers of this plant make a great border. You may choose any color, and among the popular varieties are purple, pink, red, orange, white, salmon and bi-colors.
Seed to Bloom Time: about 10 weeks
7. Johnny Jump-Up
Viola is the most common name referring to Johnny Jump-Up. It is also known as Mini Pansies and Filed Pansies. Whatever you call it, this flower is too beautiful to ignore.
Most varieties normally have two colors and overlapping petals. This spring bloomer can be sown through its seeds, which are among the fast growing.
Seed to Bloom Time: 3 months
8. Marigold
Marigolds are a general term that refers to 3 species with different varieties.
These are African Marigolds with large pompom flowers, French Marigolds with purple tinged stems and double heads, and Signet Marigolds that are daisy-like (this is where Calendula belongs). This type of plant is one of those with fast growing flower seeds.
Orange and yellow are among popular colors, but there are also varieties in mahogany. It can grow up to 4 feet. It thrives in all hardy zones in moist (dry to medium), well drained soil and in full sun.
After sowing, it takes only less than a week to germinate and then 8 weeks for the first blooms.
Seed to Bloom Time: 8 to 9 weeks
9. Morning Glory
Morning Glory is an annual flowering plant that has different color varieties to offer. These include blue, purple, red, magenta, pink and white. There's also blur or purple with white throats.
It requires moist, well drained soil and full sunlight. It is not a big problem to grow this since it tolerates all types of zones.
Since this is among the fast growing flower seeds, it produces blooms in a short few weeks. It is recommended to sow it 2 weeks before the frost.
Seed to Bloom Time: 2 to 4 months
10. Nasturtiums
Nasturtium is well known not only because of its colorful flowers but also the fact that it is edible. Yes, the petals of this flower are used in many different types of cuisine.
Even the leaves are nutritious, having vitamin C and some more nutrients. It is also popular to interplant with tomatoes and cucumbers that help deter pests.
This annual plant does have fast growing flower seeds. It can survive even with minimal maintenance. The hardy zones it requires must be between 9 and 11, and the soil condition must be slightly acidic, either poor or average.
From partial shade to full sun, it can quickly mature and produce flowers in orange, yellow, red and creamy white,
Seed to Bloom Time: 4 weeks to 2 months
11. Nigella/Nigella Damascene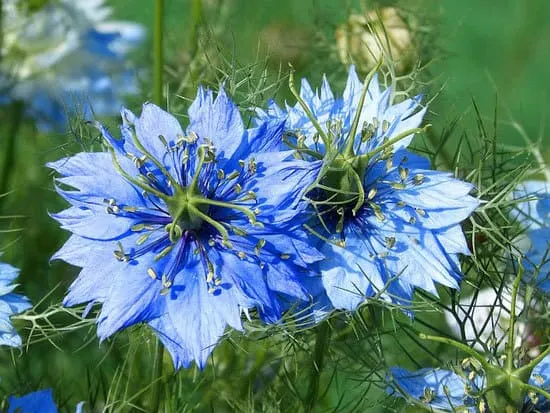 Nigella, also known by the nickname Love-In-A-Mist, is a beautiful flowering plant framed by feathery or lacy foliage. This is also included among the fast growing flower seeds.
Its petals are white, blue and purple. They are often used as both ornamental and dried arrangements. It blooms in the first weeks of summer.
Seed to Bloom Time: 4 months
12. Petunia
Petunias are a pretty plant known by its bell shaped flowers that come in different colors. Single colors include violet, pink, white, peach and red.
The head turners are those with bicolos, in which the throat has a contrasting shade (such as the photo above). This is included on the list of the best and fast growing flower seeds.
Seed to Bloom Time: 6 to 8 weeks
13. Phlox
Among the annuals, Phlox has seed that is quick to germinate and grow. This Texas native plant produces beautiful cut flowers in white, pink, red, purple and blue shades. It is a lovely flower to add to your garden and give a pleasant view in the early summer. It is attractive to butterflies, bees and birds as well.
Seed to Bloom Time: 6 to 8 weeks
14. Poppies (California Poppies)
Not all species of poppies are fast growing flower seeds. If you want a plant from this kind, California Poppy is a great choice. It only takes 60 days before you can enjoy the view of beautiful yellow or orange flowers.
Another reliable fast growing poppy is the Breadseed Poppy, which is otherwise known as Opium Poppy. But this one requires a cold soil.
Seed to Bloom Time: 2 to 3 months
15. Sunflowers
Sunflower is an annual, cold hardy plant famous for its huge and bright yellow flowers. This is one of those fast growing flowering seeds that thrive well in most, well-drained soil with full sun all day.
Depending on the varieties, this may grow as tall as 3 feet or higher as 10 feet. It also comes with orange, red and mahogany colors. Some varieties have two shades too.
Seed to Bloom Time: 4 months
16. Sweet Alyssum
Another annual fast growing flowering seed comes in the form for Sweet Alyssum. It is also among those low growing flowers extending up to 9 inches only, which make it ideal for borders, edges and pathways.
Its seeds are able to germinate just within 4 days. It only takes a few weeks before you can see those clusters of tiny but pretty and fragrant flowers. This has color varieties including white, pink, purple and apricot.
Seed to Bloom Time: 8 to 10 weeks
17. Sweet Pea
The pods of Sweet Peas provide tiny bits used in cooking. But this small vine produces beautiful, ruffled petal pink flowers that can enhance your lifeless garden or sidewalks.
This prefers a cold climate in order to produce better growth. It is suggested to soak seeds for several days before planting them in a pot or designated beds. Once its blooming period arrives, you'd not only enjoy harvesting the peas, but also the scented flowers.
Seed to Bloom Time: 12 to 14 weeks
18. Zinnias
Yes, Zinnias are also fast growing flower seeds you may plant around your home or in the garden. Seeds germinate very quickly and you don't have to wait much longer to see the beautiful and colorful flowers. This survives in moist, well drained soil. It has to be watered regularly and exposed in full sunlight.
There are different species of this flower, and among the fast growing ones are Zinnia Elegans (common Zinnia), Zinnea Angustifolia (creeping Zinnia), Zinnea Haageana (Mexican Zinnia or Haage's Zinnia) and Zinnia Grandiflora (Rocky Mountain or Prairie Zinnia).
Colors vary as well, which include orange, red, yellow, purple, lavender, white and even green.
Seed to Bloom Time: 2 months
---
Conclusion
The list of the fast growing flower seeds above is your best resource for your next gardening project. If you like to have flowers that quick, better choose among those 18 flowers.
Whatever you decide, remember that there is a little difference between germination period and bloom time. The germination process begins right after planting the seeds in the soil.
Depending on the type, it may take just a few days or less than two weeks. In most cases, that is very quick but doesn't mean that the flowering production is as fast as that. The blooming time can take weeks from 60 days up to 90 days.
The importance of estimating both periods can help you determine the right time to start planting. You must know the best blooming season in order to have a successful abundant growth and good quality flower production.
Therefore, don't just choose any of the fast growing flower seeds provided above, but also find the ones that won't disappoint you in the end.
So, share to use what flowers you think are the fastest enough for your preference?