If you are looking for a simple and mobile planting option, you have probably come to the cedar window boxes.
Cedar window boxes are an excellent choice for growing plants in unusual spaces. These boxes also come in other materials, where metal, wood, and plastic are the three main ones. You can place them in the garden, windows, patio, or balcony.
If you are living in the apartment, you can also put them on the roof if you get permission from the building management.
Cedar material is insect repellent, so you will not have any problems with pests. A space is left between the slats for ventilation of the plant and the removable boards at the bottom to drain excess water.
There are planters on either side to allow the models to become self-standing. This unique feature makes your garden aesthetically pleasing and functional in the window.
We have compiled this review article to list some of the best cedar window boxes in the market.
Read on if you want to learn more!
5 Best Cedar Window Boxes!
Here are the five best cedar window boxes you can install in 2023:
1. Windiy 1 Pcs Whitewashed Wooden Rectangular Rustic Cedar Window Box

If you want to make a stunning window arrangement or home decorative bloomy arrangement, go for this product from Windiy.
It measures 17.3 inches in length, 3.9 inches in width, and 3.9 inches in height. It is the right size for holding mini plants, succulents, air plants, mason jars, flowers, potpourri, candles, and more.
The distressed white finish with a brown dusty dappled coloring juxtaposed with different grain patterns, stains, nail holes, chips, splits, and breaks gives the model a warm, cozy, and natural look. It also has a lightly painted off-white and natural aged-pine wood for an attractive finish.
You will get plastic liner, which is removable that protects it from any leaking water. Because of that, it does not come with drain holes.
Since you can find various plants of different heights, shades, and forms, it creates a spectacular focal point for rustic-themed occasions.
Here are some pros and cons:
Pros
Cozy look
Sturdy and lightweight
East to assemble
It does not leak
Cons

2. Leisure Season Barrel Style BREP109 Rectangular Cedar Window Box

This product from Leisure Season is known for giving your backyard, patio, outdoor living space, or garden a farmhouse-inspired flair and charming barn.
It comes with dimensions of 27" by 18" by 16", which adds more personality and texture to the living space.
Similarly, it comes with cedar wood and solid cypress, making it a stunning decorative accent for an outdoor living area.
Also, I appreciate the carbonized finish feature because it protects the model against moisture rot, decay, fading, and damage.
It is easy to clean because you only need to damp soft cloth in a mild soapy solution and water, then clean it with a clean, dry cloth.
No assembly is required because you only need to bring out the nails and hammer to set up a box.
Besides, it comes with a 1-year warranty.
Here are the pros and cons of this one:
Pros
Withstands the elements
Easy to clean
It has a warranty
No assembly required
Elegant look
Excellent decorative accent
Cons

3. Brimful Cedar Rustic Window Rectangle Box

Are you looking for the best cedar window boxes for decorating your garden or home? This model from Brimful is paramount because it has a vintage style crafted from natural wood.
It is rectangular and perfect for wooden planters and flower pots for succulents.
Furthermore, it has natural wood material, which means different variations and colors in knots and wood grain, making every window box unique and rustic.
Also, it comes in different styles of metal pots, wooden pots, and flower pots of diverse colors, from which you can choose.
This cedar window box is colorful with high-quality wood, a weathered, rugged texture, and raw edges.
In the same way, it has a dimension of 10"x5"x3.9", which makes it large enough to hold different flowers.
So, if you want to add a rustic look to the farmhouse décor, go for this model.
Pros
Rustic and unique
Easy to clean
Rugged texture
Easy to assemble
Cons

4. Handy Pantry Cedar Rustic Look Rectangular Window Box

The Handy Pantry model is perfect as the windowsill garden or indoor planter for herbs, houseplants, flowers, decorative wheatgrass, strawberries, microgreens, and more.
Its natural wood material makes it diverse, with different variations giving a stunning rustic look.
Similarly, it is versatile, making it ideal for an indoor herb garden, flowers, house plants, and pet wheatgrass.
It may be used for the wedding décor because of the rich brown barnwood finish, acting like the scene layout.
The model has inner dimensions of 13.5×4.5×3 inches and outer dimensions of 14.5x6x3.5 inches, making it meet different needs.
It is recommended because of its durable material, which lasts longer.
The product is rectangular, adding a rustic look to the houseplants. Also, it comes with the best customer service for any unsatisfied question.
Pros
Stunning rustic look
It is versatile
Best customer service
Easy to assemble
Rugged texture
Lightweight and sturdy
Cons

5. Brimful Whitewash Rectangular Cedar Window Box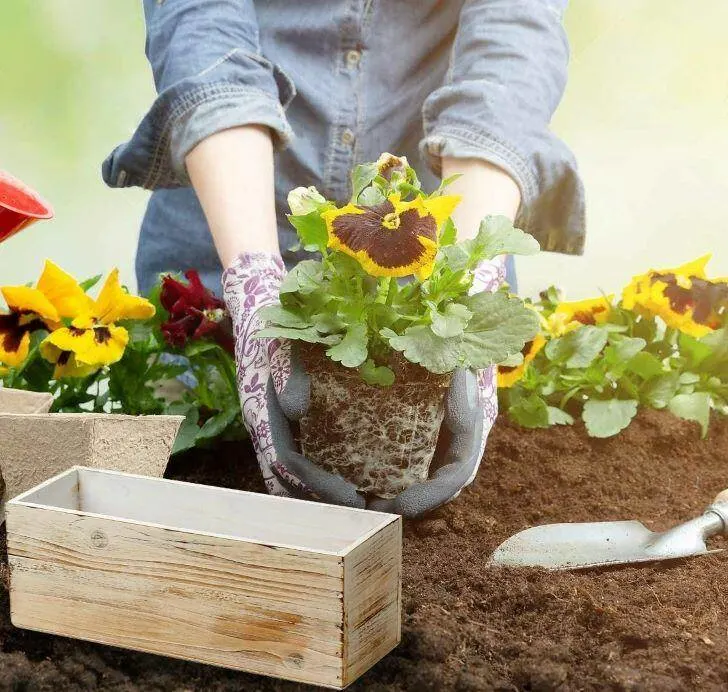 This Brimful model is ideal for holding mason jars, crafts, and candles. You can use it as a scene layout for the wedding décor.
It comes in multiple colors, with the wood surface painted with the whitewash effect, rustic and classical. It is ideal for any deck, patio, porch, windowsill, garden, living room, countertop, kitchen, etc.
Moreover, the product has natural wood material, which has variations and differences in wood knots and grain, making every window box unique. It comes with 11.41"x4.13"x4.13" inches, making it the perfect container for mini plant arrangements and succulents.
It is only for indoor use because it has no drainage hole that can easily damage the wooden box.
On the other hand, it is multipurpose, which makes it ideal for growing mini plants, succulents, flowers, cat grass, vegetables, and herbs, among others.
Here are the pros and cons:
Pros
Has multiple colors
Classical and rustic
Premium material
Multipurpose
Add charm and warmth
Lightweight
Easy to assemble
Nice rustic look
Cons
Very small
No liner plastic

That's all.
---
Conclusion!
Choosing the cedar window box does not mean limiting yourself to a simple wooden box.
Cedar window boxes come in different shapes and sizes with unique features. They are guaranteed to last longer without rotting, adding a beautiful appearance to the yard, patio, or window while holding the plants.
The unfinished and natural appearance looks perfect, as they can be refinished. Also, the boxes can easily withstand the weight of water, plants, and soil without breaking.
Leisure Season Barrel Style BREP109 Rectangular Cedar Window Box is the best-selling product because it has a sturdy material and carbonized finish. That makes it unique because the sturdy material makes it durable, and the carbonized finish makes it resist moisture rot, decay, fading, and damage.
I hope you find the best one according to your preferences.
Regards.