Why Kentucky Bluegrass?
It is not for nothing that the Kentucky Bluegrass is rated as the best lawn grass! If you take care of this grass, it will make your lawn the envy of your neighbors! It is a cool-season grass but grows in almost all conditions.
It is a perennial lawn grass, which means that it comes back year after year. It has shallow roots, and that is the reason for its low tolerance for heat and drought conditions.
However, it grows well even in sun-baked lawns! Its main features are:
It is a native of Europe and North Africa but grows well everywhere
Its leaves and tips are boat-shaped
It is dark green
It tolerates heavy usage and movement
It requires proper fertilization
It remains dormant in the summer season
Best Kentucky Bluegrass Seeds for Your Lawn
These are just some of the features. Though the grass may look slightly different from place to place, it is dense and lush and gives a uniform look to the lawn.
You need to look after any grass for it to grow well, but you need the best start! It starts with the right seed! Here is a list with detailed information about the 5 best Kentucky bluegrass seeds
1. Best Overall: Jacklin Seed – Biltmore Blue Blend – 100% Kentucky Bluegrass Certified Grass Seed

Overview
Would you like your lawn to look like the lush golf courses you love? Try this seed, it is a high grade mixture of five different Kentucky bluegrass seeds.
The five different seeds bring their unique features and qualities to give you a great looking lawn. This is perfect for weathers where summer seasons are warm, but winter seasons are too cold.
The seed blend will provide you with grass that has density, shade and heat tolerance, frost hardiness, and is also disease resistant.​
This is why it is the best choice for landscaping or lawns. You will need about 5 pounds of seeds per 2000 square feet. It will give you grass, which is dark green and will not take much time to grow.
Pros
It does not need heavy irrigation.
The mix of different grass seeds combines their excellent features to give you grass that is durable, drought-tolerant, and lush.
The company has a long history and expertise in research, innovation, and production.
Cons
If you buy less than 50 pounds, it is repacked in a clear bag and may lose some quality.
Great seed mix, ideal for people who love the Kentucky bluegrass but don't want the extra maintenance which they need to give it. It is also possible to grow this in almost all kinds of conditions.

2. Fast Growth: Kentucky Bluegrass Seed: Blue Ribbon Blend (1000 sq ft)

Overview
You want your lawn to look beautiful but don't have the patience to wait forever! No worries! This seed will give you a high-quality bluegrass lawn and that too much faster than you think.
The secret is in the 20 percent addition of the ryegrass seeds. This is a quick-growing perennial grass, and with this mix, you can have a full, lush lawn in no time.​
It comes from a reputed company like Nature's seed, which has a long tradition of research and experience. They have taken a long time to develop this mix, and the result is perfect. You will need about 5 pounds of seed per 100 square feet of land.
Pros
The company sources its seeds from trusted wildland seed collectors or their fields.
They only use seed varieties which have the top ratings by the National Turfgrass Evaluation Program.
Experts will design the blend based on the needs of regions and situations.
Cons
The grass requires regular attention, or it may grow too tall too fast.
This is an excellent product for people who are in a hurry to grow their lawns. It is ideal for landscapers and professionals who are working against a deadline. It will grow well in almost all conditions and weather.

3. Best Certified Seed: SeedRanch Midnight Kentucky Bluegrass Seed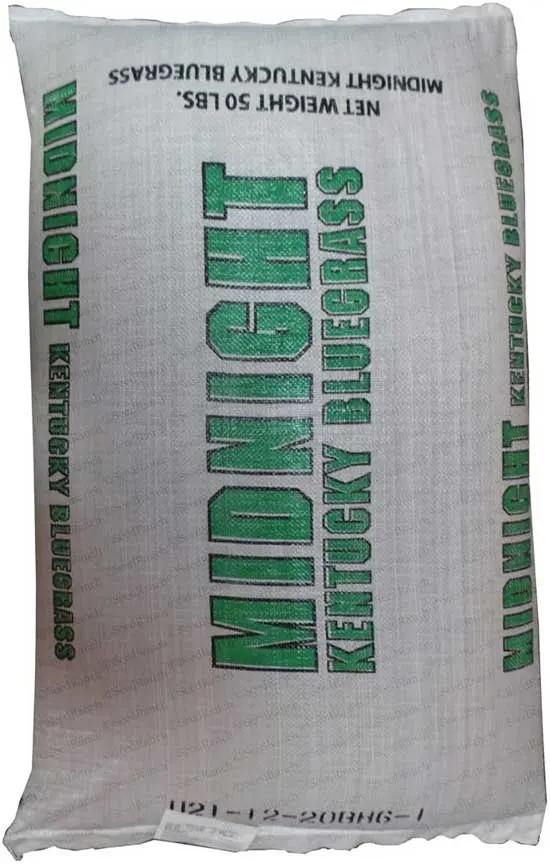 Overview
This is a great product that comes to you certified and thoroughly tested. It will give you a desirable yield. Kentucky bluegrass is dark blue-green and has shallow roots. It also needs a lot of water and maintenance.
If you mix this seed with tall fescue seeds, you will get an even better result. Your lawn will look beautiful and yet require less maintenance from your side. It will make the yard more heat tolerant and also more durable.​
You will need about five pounds of seeds for 1500 sq feet of land. Apart from fescue grass seeds, you can add this seed to other seeds as well, depending on weather and soil conditions.
Pros
In favorable weather, it is possible to get about 20 feet of rhizomes from one plant
It grows exceptionally well in cold climates and does not require too much sunlight
The seeds are certified after extensive research and testing
Cons
On its own, the seeds may not hold well because of their shallow root system
If you have tried many different seeds without good results, then you must try this one. It has been tested extensively and certified only after a lot of research.

4. Best Self-Repairing: Scotts 18269 Turf Builder Grass Seed Kentucky Bluegrass Mix

Overview
This grass seed mix is perfect for heavily used areas. It can not only withstand all the harsh conditions, but it can also self-repair. With this seed mix, you can get a thick and durable lawn.
The seeds have a unique 4 in 1 WaterSmart Plus coating, which can absorb two times more water than the uncoated seeds. It can also take in more essential nutrients and helps protect the seedlings from diseases.​
The seeds are designed to result in the fine-bladed texture of grass as well as resist common drought conditions.
With this seed mix, you will get a beautiful lawn that is thicker, greener, and grows quicker too. You should ideally plant the seeds in the fall or spring to get the best results.
Pros
The elite 4 in 1 WaterSmart PLUS layer soak up more water and nutrients and safeguards against diseases
This seed mix is best for full sunlight and shade.
This is a great grass option for heavy wear and tear areas
Cons
It is a good seed mix but is not available in every state easily
There is a lot of innovation and technology in these tiny seeds! After planting, in no time, you will have a beautiful, lush lawn to enjoy.

5. Best Perennial: Outsidepride Midnight Kentucky Bluegrass Lawn Grass Seed

Overview
With this seed, you can make your lawn thick, green, and dark. You can use these seeds not only for gardens but also in golf courses, parks, fields, etc.
You will not require much water because, during the germination process, it can keep the seed moist. It can withstand cold season well and still thrive. Seed to the ground ratio of about 2 or 3 pounds of seeds per 1000 square feet of ground is ideal.​
The grass which grows is thick and durable and will be able to take on substantial movement and traffic. It will have the vibrant dark blue-green color of Kentucky bluegrass and will also grow well in full sun.
Pros
The seeds require less water and can keep moist for long
It grows well in all conditions; both in cold and sunlight
It grows thick and lavish and can handle high traffic
Cons
It requires some attention. If you don't fertilize and take care of it, the results may not be good
Go ahead and try these seeds either to plant a new lawn or to repair patches on the lawn. It gives excellent results and is perfect for a lawn, which sees a lot of action.

---
Buyer's Guide: Best Kentucky Bluegrass Seed
Who does not like a thick & lush carpet of grass in their garden! People think that just by watering or fertilizing, they will get great results.
Yes, these things are necessary, but you need the right seed to start with. Kentucky bluegrass seeds are probably the best seeds to grow a beautiful lawn.
Looks of the grass
Kentucky bluegrass grows into a beautiful, sod-forming lawn. Its blades have a fine texture and widely recognized blue-green color. It looks like a dense carpet. You can maintain it by mowing regularly to keep it thick and uniform.
Benefits of Kentucky bluegrass
Appearance: its color is fantastic, and the texture is also nice. Its blades are thin and have rounded tips. They are soft to touch.
It is ideal for lawns with kids and pets: it adapts well to high traffic and movement. It grows well on compacted soil.
Self Repair: it can recover from any damage and disturbance quickly.
Number of Rhizomes: rhizomes are stems that grow horizontally and grow into a new plant. Kentucky bluegrass can have a large number of rhizomes growing from a single stem.
Winter hardiness: it can grow very well during the extreme winter season. Proper watering will ensure that the grass can grow back after freezing, drought, or periods of high traffic.
The Right Sunlight, Soil, and Moisture
Most Kentucky bluegrass seeds tolerate some amount of shade but prefer sunlight. Some varieties can grow well in the shade. Too much shade can be a problem, though.
Soil quality is essential for any plant or grass to grow well. You need the soil to be fertile, and there should be no water logging. Well-drained but moist soil is perfect.
Consistent and regular irrigation is of great importance. It has shallow roots which can kill the grass if there is a long drought or very less watering.
---
Frequently Asked Questions
Q. Is Kentucky bluegrass the best lawn grass?
A. it is the best for cold climates. It has a high tolerance for extreme cold. It can grow and thrive in frigid areas and survive the weather, which can otherwise kill other grasses ryegrass or fescue grass.
Q. What is the right time to plant Kentucky bluegrass?
A. Ideally, you should sow the seeds in autumn. Kentucky bluegrass is a cool-season grass. It grows best if you plant it in a sunny area, especially if the winters in your area very cold. You may have to trim some branches and bushes to give the seeds a good chance.
Q. How to Mow Kentucky bluegrass?
A. You should be careful while mowing to maintain the right length. You should mow to a height between 1 ½ to 3 inches only. It makes the roots go more in-depth and tolerate heat better. If you mow too low, it may allow weeds to grow.
Q. How to fertilize Kentucky bluegrass?
A. You must get a soil test to know what type of fertilizer will be right. This grass grows well when the soil is well-drained. You should apply organic fertilizer like compost before planting. During the growth period, Kentucky bluegrass needs about 4 to 6 pounds of nitrogen per 1000 square feet.
Conclusion
If it is your dream to have a beautiful lawn, then you can fulfill this dream with Kentucky bluegrass seeds! You will need to take care of it, but the results will be amazing.
You should follow the necessary precautions to get the right results. We have shared information about the 5 best Kentucky bluegrass seeds.
Contact us if you need more information or have any suggestions for us. We will be happy to help you. If you find the information useful, then please feel free to use it with friends and neighbors. Enjoy a thick and lush lawn with these seeds!