Red perennials flowering plants can definitely stand out in a garden full of greens. The color is unquestionably captivating, which is why flowers of this shade are a great selection to enhance your landscaping or contrast the natural green hue of leaves.
As far as superstitious belief is concerned, red represents love, passion, desire and strength. It is also considered to symbolize heat, beauty and courage.
Here is a list of flowers that are considered red perennials, which means they reoccur a couple to a few times in a year.
27 of the Most Beautiful Red Perennials
1. Anemone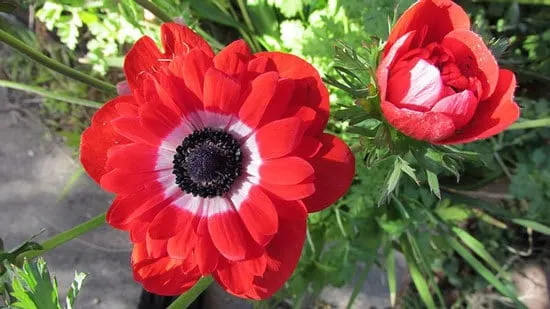 A beautiful poppy-like red bloom in the form of anemone can help achieve your garden goal in terms of adding charm. This flower is produced starting in the middle of spring. It requires partial shade to full sunlight.
2. Anthurium
Anthurium is one of the few red perennials that last for a very long period of time – we're talking about months. Even cut flowers soaked in water in a vase can remain beautiful and fresh as new for a couple of weeks or longer. The single heart-shaped petal and long spadix make it look very unique.
3. Amaryllis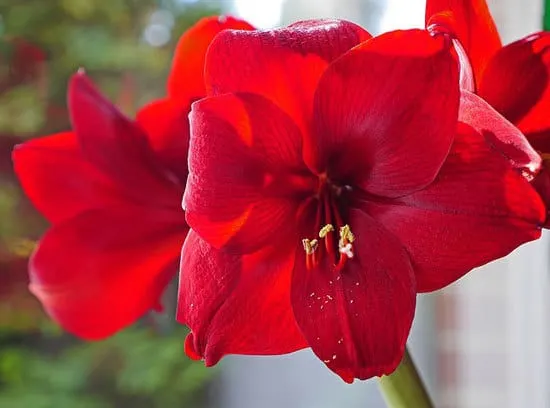 This flower is not only pretty but also versatile. It can be used to create borders or edgings, and grown in containers or beds. If you like to have a much longer blooming period, plant at intervals of a week or two.
4. Begonia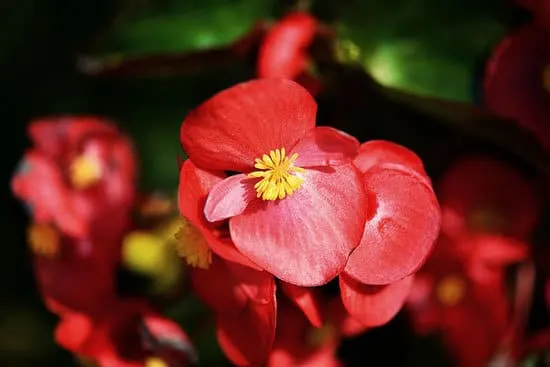 Begonias are cute, small flowers with different color varieties. The red perennials are a good choice. This plant is easy to grow but must be given the basic care, which includes the removal of dead leaves, cutting of flowers and pruning of infected stems. All these help in their survival and better growth.
5. Bergenia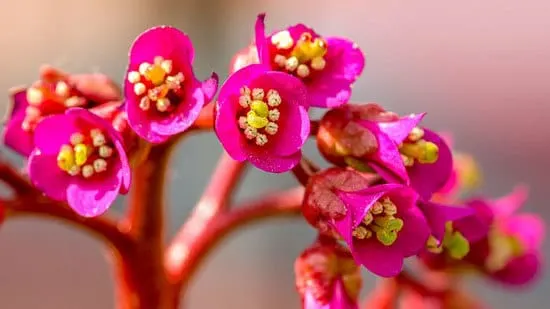 Also one of the favorite red perennials is the Bergenia. Although not literally red in color, this plant produces flowers closely to that shade in rose, pink and purple.
A single stem consists of multiple small flower heads. For abundance, it is best to plant it in humus-rich, moist and well-drained soil.
6. Bleeding Heart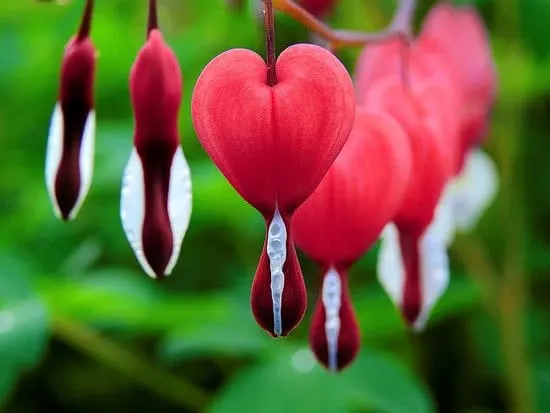 The cute and unique shape of Bleeding Heart is astonishing. The only flower that is distinctively different. This is another great choice among red perennials that you may add to and grow in your garden. It needs rich, moist soil with partial shade to full sun. It thrives well in areas with cooler climates.
7. Canna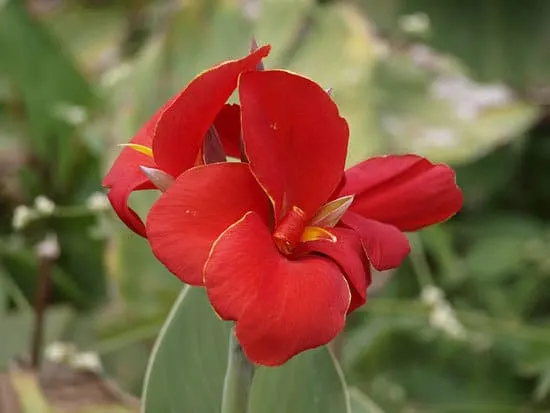 Cannas produce beautiful flowers but are very fragile requiring an adequate amount of water. It's imperative that you regularly water the plant to live longer and bloom more and quality flowers.
8. Cardinal Flower
Blooming in racemes, Cardinal Flowers are also a beautiful red perennial you may grow. But ensure that the soil chosen is wet, as this plant best thrives in marshes and meadows.
9. Chrysanthemum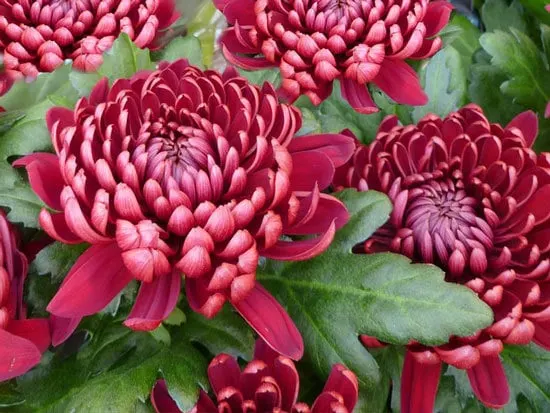 Chrysanthemum is one of the popular ornamental plants in the world as it's easy to grow. It is also among the red perennials that is manageable to take care of. The large pom-pom like heads featuring multiple petals are too pretty to ignore.
10. Cockscomb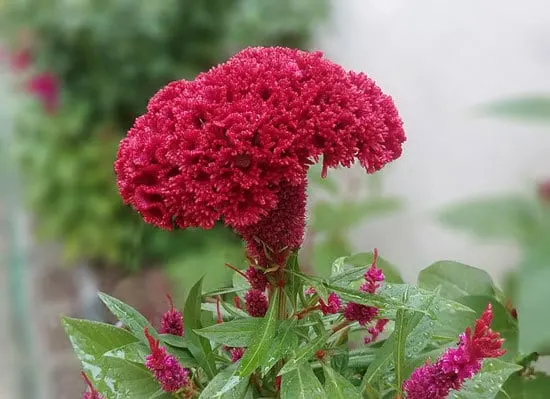 To turn heads, Cocksomb is a perfect red perennial choice. It blooms a flower with a different shape that is similar to coral reefs but its name is derived from the rooster's head, also known as the "cock's comb". This thrives best in zones 9 and 10.
11. Columbine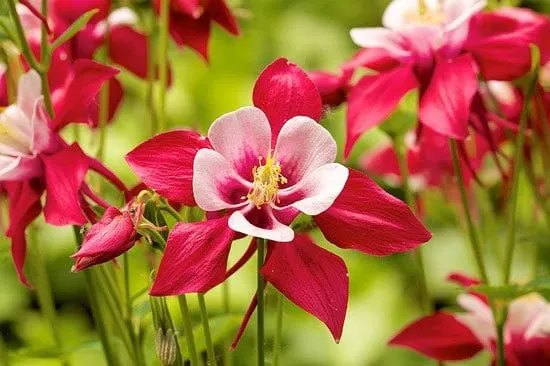 In moist, well drained soil between zones 3 and 8, Columbine makes a good addition to any garden. It is one of the red perennials that promise a very pretty view considering its double look flowers.
Each flower has a two-layered parts, which are totally different from each other. This summer bloom can grow as tall as 3 feet with a foot width.
12. Coneflowers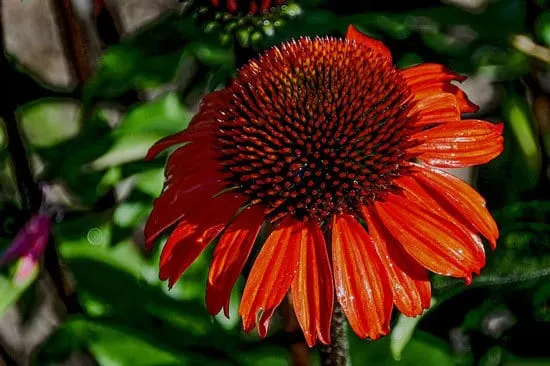 Coneflower presents itself with the combined look similar to sunflower and daisy. If you're looking for red perennials that are easy to care, this is one of the best choices.
It blooms in the summer for several months giving you ornamental cuts. This is also attractive to pollinators and birds.
13. Cranesbill
There are different varieties of Cranesbill, which are identifiable by their petals and colors. Red ones are not the same either, but they all look beautiful and are easy to care. This kind of flowering plant survives in moist, well drained soil.
14. Dahlia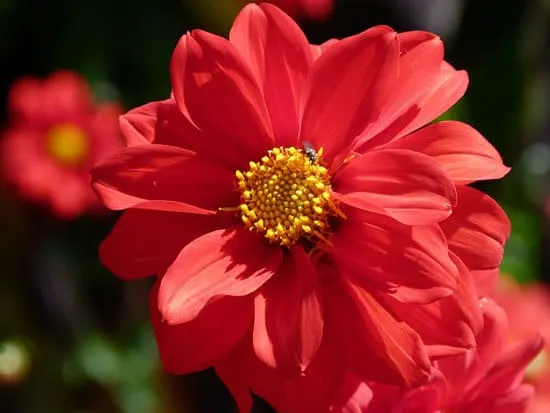 Dahlia is also among the red perennials that have several varieties to offer. This flowering plant is hardy that thrives best in zone 8 up to higher.
It is recommended to cut the flowers once they bloom so it continually produces more flowers. This is definitely a great choice for garden owners if they want to use it for commercial purposes.
15. Daylily
One of the showy, prettiest red perennials you can grow with low maintenance is Daylily. It requires slightly moist soil with partial shade to full sunlight. The flowers bloom early in the morning and wither the following night, but are easily replaced the next day.
16. Freesia
There are various colors, including red, of Freesia. This trumpet-shaped flowering plant blooms in the summer. It is a common cut flower used for special occasions and meaningful reasons. Sure, it's also among the most manageable red perennials.
17. Gerbera Daisy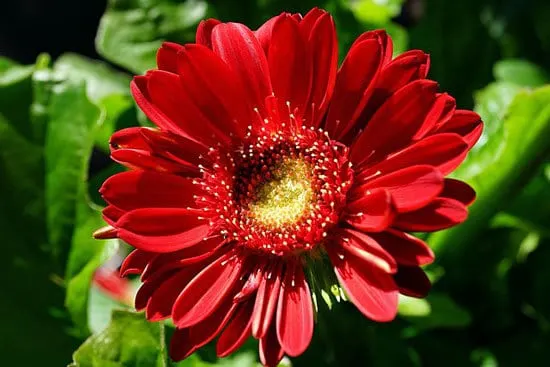 The flowers of Gerbera Daisy are undeniably beautiful! Each flower is composed of numerous petals with a reddish golden-brown middle part. It is a herbaceous perennial that you may grow in your garden.
18. Hibiscus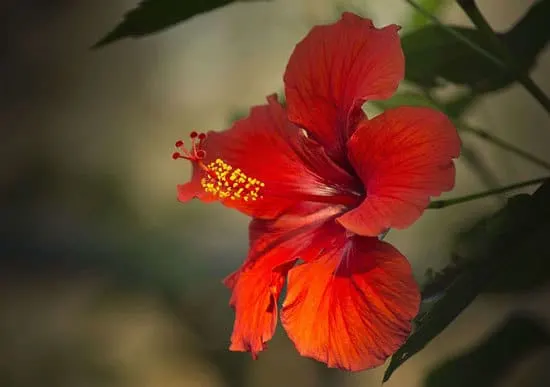 Hibiscus is a popular flower that usually thrives in tropical regions. It is a well known state flower of Hawaii. This is easy to grow and blooms well. It is a flowering shrub that can be placed along fences and outdoor walls. Its flower lasts only a day, or two, but reblooms quickly the next morning.
19. Peony
Peonies are one of the low maintenance red perennials you must consider. This plant produces beautiful blooms in spring and summer. If given enough sunshine, it can last for a long period of time, we're talking about years.
It has to be planted in well drained soil in zones 3 to 7. Another interesting fact is that it can be grown with other flowering plants, especially iris.
20. Pentas (Egyptian Starcluster)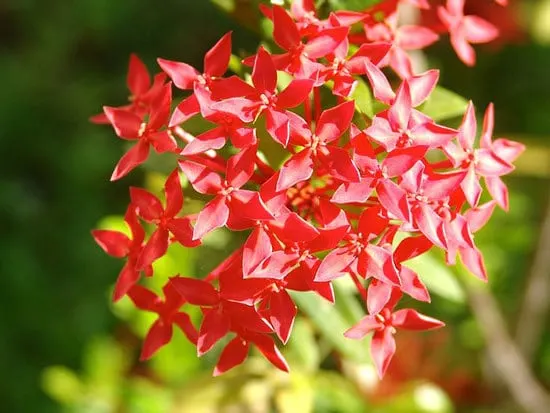 Although generally considered as an annual plant, Pentas is perennial in nature. Hence, it's among the red perennials that can be grown in hardy zones 10 and 11.
This is well known as Egyptian Starcluster for its flowers has the shape of a star. It is a cluster of small but cute flowers. It tolerates heat, humidity and drought.
21. Red Dianthus (Sweet William)
Sweet William is a beautiful, spicy-sweet fragrant flowering perennial plant that comes in different variants. Apart from red, there are white, pink, and bi-colors too.
This blooms in the summer up to fall. It usually grows in hardy zones 3 to 9 with partial shade or full sun.
22. Red Valerian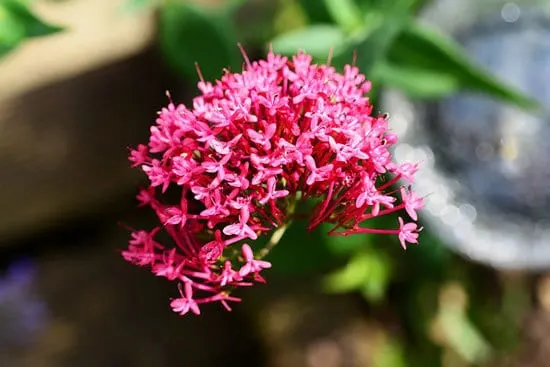 A single stalk of Red Valerian is composed of tiny, sweet-smelling star-shaped flowers that attract butterflies. This grows well in hardy zones 3 to 9 with average well drained soil. It also requires partial shade to full sun. It can grow from 2 feet to 3 feet.
23. Rose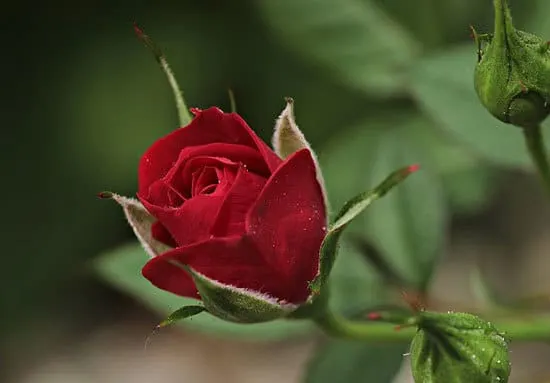 It is not a new fact for anyone to hear about Roses. This is one of the most popular and favorite red perennials flowers in the world. While there are other colors available, red is a very common choice.
That's because it represents "love", which is given as a gesture of affection on special occasions, including anniversaries, Valentine's day and weddings.
Rose can be a little tricky to grow as it requires more care than other perennials. It must be planted in the right soil condition and area with the appropriate temperature.
24. Salvia/Scarlet Sage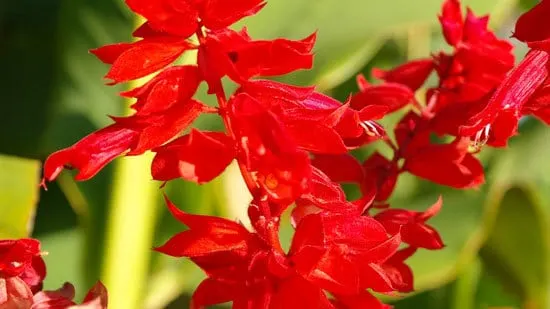 If you don't want to worry about climates, Salvia is an excellent choice to grow. Most commonly known as Scarlet Sage, this plant tolerates different types of temperatures.
It can also withstand drought. Whether light shade or full sun, this can grow well and bloom in the summer for a long couple of months.
25. Saxifraga (Red Rockfoil)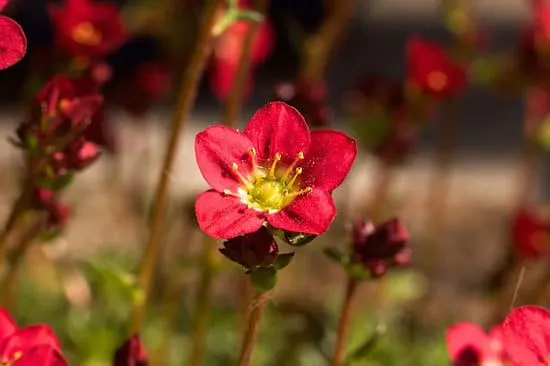 This tiny flowering plant can make a great edging or border. Each flower head consists of 5 petals and 5 sepals with a limited number of stamens. The red variant can contrast your green garden.
For best result, this must be planted in loamy soil in one of the hardy zones 4 to 9. It requires either partial shade or full sun.
26. Tulip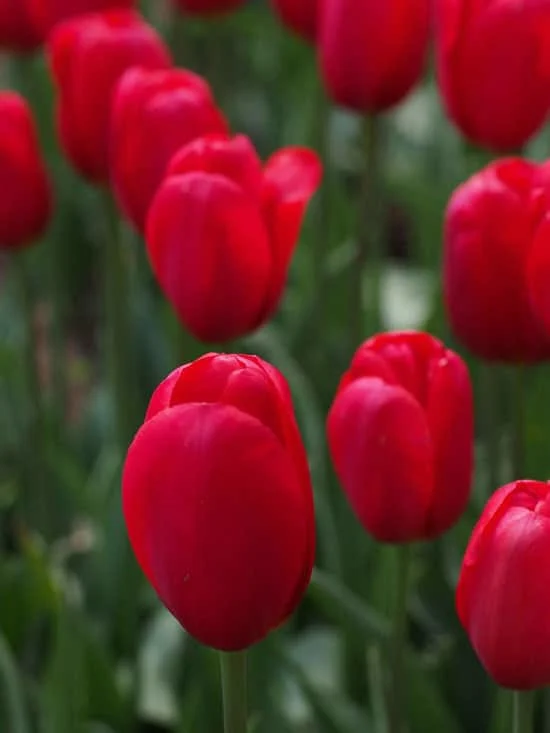 Tulips are among the most beautiful red perennials in the botany world. A large field of this can be breathtaking – just imagine being in the middle in one of the famous attractions in the Netherlands. This flowering plant blooms abundantly starting from spring.
What this flowering plant needs is a full sun, and also the natural light in the afternoon. It also requires neutral to slightly acidic, fertile, well drained to dry or sandy soil. It may need a spacious garden as you need to plant bulbs with 4 inches to 6 inches apart from each other.
27. Yarrow
Lastly but not the least among red perennials, Yarrow can create a different aura and view to your garden. This plant has flat-topped clusters of small flowers with feathery leaves. There are several variants but the red pop brought by this plant is unquestionably a pretty look.
In addition, this plant is easy to grow and manage. It thrives well in acidic, dry or well drained soil. Full sun is needed for better growth.
---
Conclusion
Flowers considered as red perennials are typically manageable even for beginners. They may have differences in terms of details, such as number of petals, colors, shapes and sizes, but their similarity, which is outstanding beauty, cannot be denied.
They can definitely add charm to any garden, providing a little contrasting pop to the usual green color and attracting pollinators and birds.
Remember that not all plants have the same requirement. That's why you must figure out the type of soil you have first and consider your area and all-year climates.
It is much easier to identify which of these red flowering plants are the best choice. Whether you need one or more to beautify your garden or other reasons, picking the right plants is part of the basic planning.
Nevertheless, which of these red perennials are good for your garden? What flowers are best for the soil in your area? Do you think you can manage to grow any of these flower producing plants?