Maintaining a well-manicured lawn is a point of pride for many homeowners.
But finding the right equipment to maintain your lawn can often pose a challenge if you have limited yard space.
So, say hello to the smallest riding lawn mower—a compact powerhouse designed to conquer tight corners and transform your lawn into a pristine paradise.
Cool, right?
In this article, we'll explore the key factors to consider when choosing the smallest riding lawn mower, and we'll give you our top 5 picks.
So, join us in unlocking the potential of the smallest riding lawn mowers, and say goodbye to the woes regarding yard maintenance.
Let's begin!
Comparison Between Smallest Riding Lawn Mowers!
Let's start with a quick pick section.
Quick Pick Selection Table
Here's a table to help you quickly pick up one of our top 5 smallest riding lawn mowers according to your own preferences.
| | | | | | |
| --- | --- | --- | --- | --- | --- |
| Model | Snapper 2911525 | Husqvarna Z242F | Ariens Edge 34 in | Troy-Bilt 452CC Mustang | Cub Cadet CC30H |
| Engine Power | 11.5 HP | 18 HP | 19 HP | 13 HP | 13 HP |
| Displacement | 344 cc | 726 cc | 344 cc | 452 cc | 382 cc |
| Cutting Deck Size | 28 in. | 42 in. | 34 in. | 34 in. | 30 in. |
| Transmission | Hydrostatic | Hydrostatic | Hydrostatic | Dual Hydrostatic | Hydrostatic |
| Speed | 5.5 mph forward, 2.6 mph reverse | 6.5 mph | 6.5 mph forward, 3.5 mph reverse | 7 mph forward, 2.5 mph reverse | 4.25 mph forward, 1.8 mph reverse |
| Adjustment Settings | 5 positions | 6 positions | 5 positions | 8 positions | 5 positions |
If you are in a hurry and don't have enough time to read the detailed reviews, you can choose one based on these points:
Now, let's dig deeper into the detailed reviews of these lawnmowers.
Detailed Reviews!
Here is a detailed guide including all the features and use cases of all the above-mentioned products.
1. Snapper 2911525BVE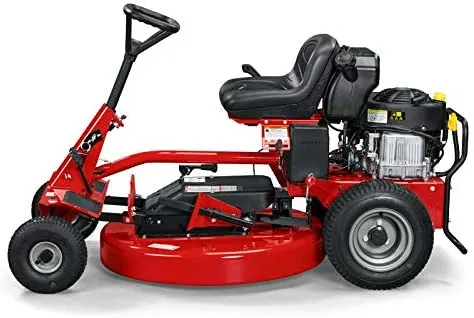 For homeowners with small lawns seeking an affordable yet reliable smallest riding mower, the Snapper 2911525BVE presents an excellent option.
While it may not offer the same premium features as some of its competitors, the Snapper 2911525BVE focuses on simplicity and straightforward functionality.
With its 11.5 HP engine and 344 cc displacement, the Snapper 2911525 boasts ample power to tackle various grass conditions, ensuring neat and even cuts.
It offers 5-position adjustment settings, allowing you to customize the cutting heights. Thus, giving you the freedom to achieve your desired lawn appearance.
Isn't that impressive?
The 3-in-1 cutting options provide versatility, enabling you to mulch, bag, or discharge clippings according to your preferences and lawn conditions.
If we talk about the compact size of the Snapper 2911525, it enables effortless maneuverability.
These features make it the perfect choice for smoothly navigating through narrow spaces and intricate landscapes.
Pros
Ideal for small yards, narrow spaces, and areas with obstacles.
Powerful engine in a small package.
Allow users to customize their mowing experience based on their lawn's specific needs.
Easy and convenient electric start.
Cons
Require additional passes in larger yards
Not good for rugged terrain
Limited attachments available for further customization
The Snapper 2911525 offers a winning combination of efficiency, convenience, and reliability in a compact package.
Next, we'll explore another top contender among the smallest riding lawn mowers: the Husqvarna Z242F.

2. Husqvarna Z242F
Regarding premium small riding mowers, the Husqvarna Z242F stands in a league of its own.
Designed to tackle both medium-sized and massive lawns, this machine combines power, precision, and advanced technologies to deliver an unrivaled mowing experience.
Equipped with a 42-inch ClearCut™ fabricated cutting deck, the Husqvarna Z242F sets a new standard for precision cutting.
Its superior build quality ensures durability while providing a clean cut every time.
Paired with the impressive 18HP Kawasaki FR V-Twin engine, this mower handles even the toughest grass and uneven terrains. The combination of a powerful engine and an efficient cutting deck makes the Z242F a challenging force in the world of riding mowers.
Apart from these features, the plus point of this mower is its speed.
With a top speed of 6.5mph, the Husqvarna Z242F allows you to cover large areas in less time. This speed, coupled with its ability to navigate smoothly and effortlessly, ensures maximum efficiency while mowing.
Husqvarna prioritizes user comfort, and the Z242F reflects this commitment.
The adjustable seat design allows you to find the perfect sitting position, reducing fatigue during long mowing sessions.
Pros
Versatile speed control to match the specific needs of your lawn.
ClearCut™ cutting deck ensures a superior and even cut.
Comfortable seating and ergonomic design enhance user experience.
Cons
Limited suitability for larger yards due to its compact size.
Higher price point compared to some other models in the market.
Despite these minor considerations, the Husqvarna Z242F shines as a compact champion in riding lawnmowers.
Now, let's continue our exploration of the smallest riding lawn mowers with the Ariens Edge 34 inches.
3. Ariens Edge 34 In.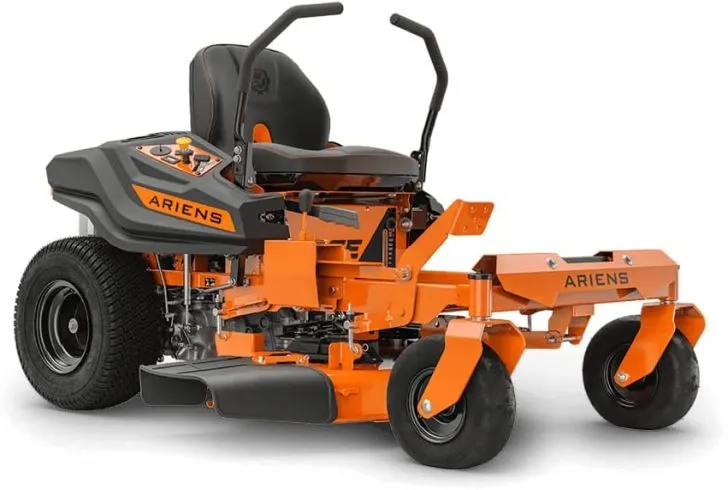 The Ariens Edge 34 in. is a standout choice among the smallest riding lawnmowers, offering perfect precision, maneuverability, and performance.
Designed for small-scale lawn care, this mower combines cutting-edge features with ease of use.
With its 34-inch cutting deck, the Ariens Edge strikes the ideal balance between efficiency and maneuverability. It allows for precise and controlled mowing, making it perfect for navigating tight spaces, making intricate lawn layouts, and moving around obstacles.
Say goodbye to missed spots and uneven cuts with the Edge's exceptional maneuverability.
Powered by a reliable engine, the Ariens Edge delivers the necessary performance to easily tackle small to medium-sized yards.
The Edge features multiple cutting height positions, allowing you to customize the appearance of your lawn. Whether you prefer a closely cropped look or a slightly longer cut, the adjustable cutting height feature ensures you achieve your desired result.
Additionally, the Ariens Edge offers optional attachments and accessories to enhance its versatility.
Whether you need bagging or mulching capabilities, the Edge can be customized to suit your specific lawn care needs, providing you with added convenience and flexibility.
Briefly, the Ariens Edge 34 in. is a small but mighty force among all the other riding lawnmowers.
Pros
Compact size for easy maneuverability.
Efficient cutting performance.
User-friendly controls.
Cons
Limited cutting width.
Noisy operation.
May struggle with tall or thick grass.
Now, let's explore another exceptional competitor in the top-notch smallest riding lawn mowers: the Troy-Bilt 452CC Mustang.

4. Troy-Bilt 452CC Mustang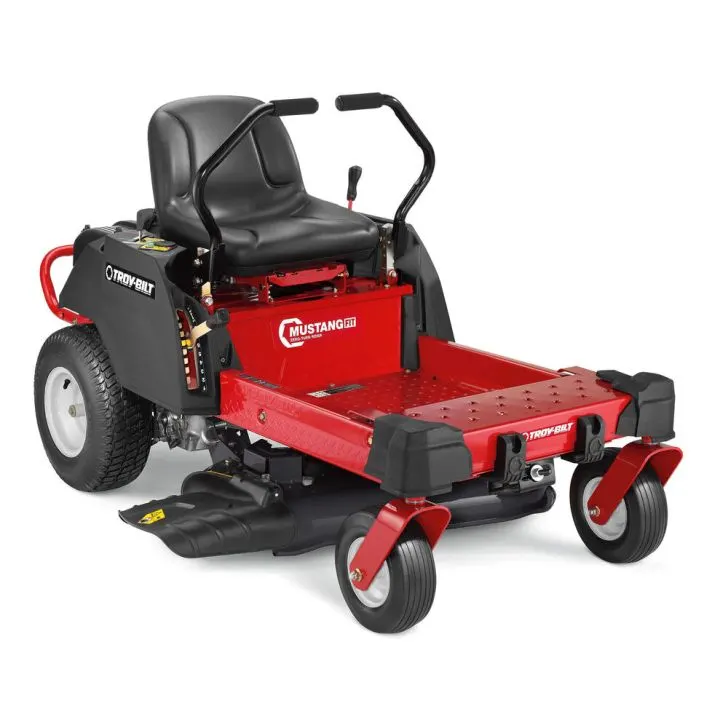 When it comes to the smallest riding lawn mower, Troy-Bilt 452CC Mustang stands out as a true gem.
While premium options exist in this category, the Troy-Bilt Mustang combines power, efficiency, and versatility to provide an exceptional mowing experience.
The Troy-Bilt 452CC Mustang boasts a compact design ideal for easy maneuvering through small lawns.
Its 42-inch cutting deck ensures efficient grass cutting, even in tight spaces.
The ClearCutTM fabricated deck is durable and built to withstand rigorous use, guaranteeing a precise and clean cut every time.
Apart from that, it is equipped with a 21.5 hp Kawasaki FR V-Twin engine. The Troy-Bilt Mustang offers robust performance, ensuring smooth and efficient mowing.
With a top speed of 6.5mph, you can cover more ground in less time, making it an ideal choice for time-conscious homeowners.
The engine's reliability and power contribute to the overall effectiveness of this compact riding mower.
Some innovative features of the Troy-Bilt 452CC Mustang are:
The rear engine guard provides added protection and peace of mind while mowing.
The automatic park brake adds a layer of safety, ensuring the mower stays in place when not in use.
These thoughtful additions highlight Troy-Bilt's commitment to user-friendly design and functionality.
Pros
Mulching capability helps maintain a healthier lawn.
Comfortable seating for a more enjoyable mowing experience.
Adjustable cutting height for customizable lawn maintenance.
Cons
Limited cutting deck size compared to larger models.
Mulching capability requires occasional maintenance to prevent clogging.
Now, our final pick among the smallest riding lawn mowers is the Cub Cadet CC30H.
5. Cub Cadet CC30H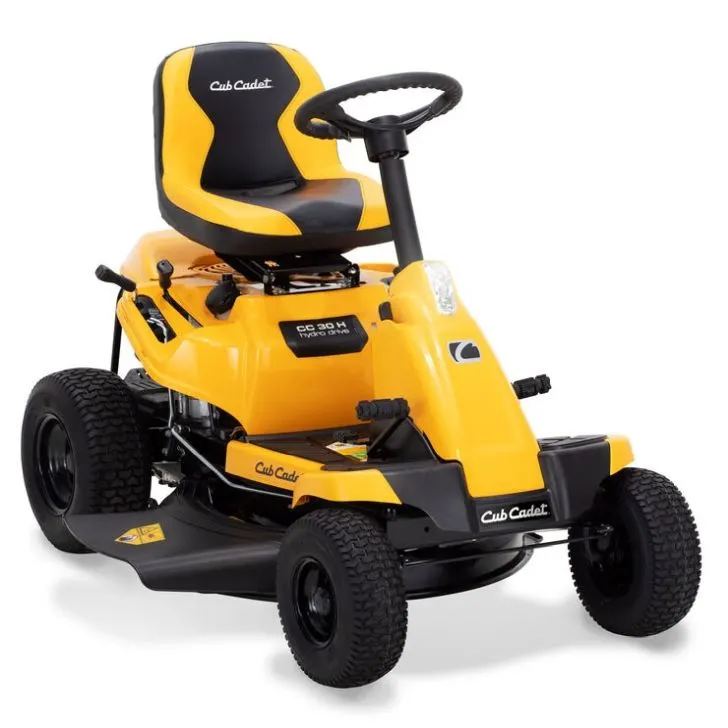 The Cub Cadet CC30H will revolutionize your mowing experience.
The CC30H's compact design is a game-changer. It effortlessly maneuvers around tight corners, narrow paths, and tricky obstacles, ensuring every nook and corner of your lawn gets that professional touch.
Don't let its size fool you—this mower packs a punch!
Say goodbye to the hassle of gears and clunky controls. The CC30H boasts smooth hydrostatic transmission, making acceleration and speed control a breeze. No more jerky movements or wrestling with a manual transmission.
Durability is another strength of the CC30H. With a sturdy build and quality components, this mower is designed to withstand the test of time. You can trust that it will deliver exceptional performance for years.
Comfort is key when it comes to mowing. That's why the CC30H comes with a comfortable seat and user-friendly controls. Even during longer mowing sessions, you'll enjoy a smooth ride and effortless operation.
Just sit back, relax, and let the mower do the work for you.
Pros
Comfortable and adjustable seating.
Smooth and quiet operation.
Good fuel efficiency.
Cons
Lower engine power.
Not ideal for large or uneven terrains.
Require frequent maintenance.
Are you still confused about which factors you need to consider while shopping for the smallest riding lawnmowers?
Let's take a look.
Buyer's Guide!
Here are certain things you must consider to choose the best mower according to your needs and requirements.
Yard Size and Terrain
When assessing your yard size, consider how much space it covers in terms of square footage.
If you have a smaller yard, it's a clever idea to use a compact mower that can easily maneuver through tight spots. Medium-sized yards may require a slightly larger cutting deck for faster mowing.
Evaluate the terrain of your yard.
If you have slopes or uneven ground, look for a mower with features like excellent traction, stability, and a low center of gravity to ensure safe and efficient operation on different terrains.
Cutting Performance
When it comes to the look of your lawn, having the ability to adjust the cutting height is crucial.
Imagine being able to customize how long or short your grass is!
That's why it's essential to look for mowers that offer multiple cutting height options. With these mowers, you can achieve your desired grass length and create a lawn that suits your taste.
Consider the type and quality of the cutting blades.
High-quality blades ensure a clean and precise cut, minimizing the risk of damaging the grass and enhancing the overall aesthetic appeal of your lawn.
Engine Power and Performance
When it comes to the power needed for your yard, it's essential to consider its unique conditions.
If you have thicker or more challenging grass types, or if your yard has rough terrain, opt for a mower with a higher horsepower engine to manage the workload effectively.
Look for features like a reliable starting system, such as an electric start or a reliable pull-start mechanism, and efficient fuel consumption to ensure easy and cost-effective operation.
Maneuverability and Ease of Use
Excellent maneuverability is crucial, especially if your yard has tight spaces, narrow pathways, or obstacles.
That's where zero-turn mowers come in.
These remarkable machines provide exceptional maneuverability, allowing precise turns and smooth navigation, even in tricky spots.
Compact designs are also advantageous for maneuvering in smaller spaces.
Now, let's talk about your comfort and ease of use.
User-friendly features such as comfortable seating, intuitive controls, and ergonomic designs minimize operator fatigue, ensuring a comfortable mowing experience even during longer sessions.
Durability and Reliability
Look for mowers constructed with high-quality materials and components that can withstand the demands of regular use.
Stainless steel or reinforced cutting decks, sturdy frames, and reliable transmissions contribute to the overall durability and longevity of the mower.
To make sure you're getting a reliable mower, do a little research on the brand. Check out customer reviews and see what previous buyers have to say. It's a good idea to go for a well-established and reputable brand.
That way, you can have confidence in the quality of the mower and know that you'll receive good customer support if needed.
Budget
Determine a budget range that suits your needs and preferences.
Higher-end models may offer advanced features, but there are also budget-friendly options available that provide excellent performance for smaller yards.
Consider the long-term value and potential cost savings a higher-quality mower may offer over time.
Growgardener's NOTE: Remember to compare specifications, read user reviews, and prioritize the key features to find the perfect mower for your lawn care requirements.
Which One is Best for You?
When it comes to finding the best, several options among the smallest riding lawn mowers are available.
Each mower discussed in this article offers unique features and benefits to meet different lawn care needs.
The best overall: Snapper 2911525BVE provides you with all the necessary values that a small riding lawn mower should provide.
The Husqvarna Z242F offers exceptional durability, superior cutting performance, and a user-friendly experience. Its innovative features and reliable construction make it a top choice for homeowners who value quality and efficiency.
The Ariens Edge 34 stands out as a top contender for those seeking precision and maneuverability. Its ability to navigate tight spaces, customizable cutting height, and comfortable design make lawn care a breeze. It's the perfect choice for homeowners looking to achieve a picture-perfect lawn.
The Troy-Bilt 452CC Mustang impresses with its compact size and powerful performance, making it an ideal choice for homeowners with small to medium-sized yards.
Being top on comfortability and fuel efficiency, Cub Cadet CC30H will make your lawn mowing experience a gust.
Ultimately, the best smallest riding lawn mower will depend on your specific needs and preferences.
No matter which mower you choose from the options discussed in this article, rest assured that you'll invest in a high-quality machine to help you achieve a beautifully maintained lawn.
Happy mowing!
FAQ's
Here are the answers to some frequently asked questions.
What Are the Benefits of Using the Smallest Riding Lawn Mower?
Using the smallest riding lawn mowers offers several benefits:
They are maneuverable, making it easier to navigate tight spaces.
They require less storage space, making them ideal for homeowners with limited room.
They are also more fuel-efficient and cost-effective compared to larger models.
Overall, they are best for small lawns.
Are There Any Specific Accessories Available for the Smallest Riding Lawn Mowers?
Yes, there are various accessories and attachments available for the smallest riding lawn mowers.
Some common options include:
Baggers for collecting grass clippings.
Mulching kits for finely chopping and distributing clippings.
Snowplows for clearing snow
Tow-behind carts for hauling materials or equipment
However, some companies even provide other accessories as well.
Can Smallest Riding Lawn Mowers Be Used in Both Residential and Commercial Settings?
Yes, the smallest riding lawn mowers can be used in both residential and commercial settings.
Their compact size, maneuverability, and efficiency make them suitable for maintaining lawns and landscapes in various settings, including residential properties, parks, small businesses, and other commercial areas.
That's all for today.
---
Conclusion!
So, which one are you going to choose?
Ask yourself which specific requirements you want from your mower and want things you can compromise.
This will lead you to understand what you actually want.
Now you can easily take control of your lawn with the smallest riding lawn mowers—experience efficient mowing like never before!
I hope this article helps you choose the smallest riding lawn mower for your lawn. If you really like this post, don't forget to share it with your friends.
Regards,
Moiz Atiq.