Upgrade your little garden or landscaping yard with one or more of the best choices of trailing annual flowers. Flowering plants that trail along the ground or spread out of the containers provide an astonishing display that you, your family and guests will surely appreciate.
Trailing annual flowers are a great idea to choose for edgings or borders, hanging pots, retaining walls, and window boxes. It's a fine gardening project that results to a more attractive view whether you are having a makeover at your yard or planning to add more plants around your house for beautification.
This kind of plant does not root at nodes along the stems. However, since it is considered as annual, a plant blooms flowers once in a year only. It is also an excellent idea if you combine or add some perennials. Both erect and cascading flowers popping up in great bloom is worth looking for.
On the list below, there are 13 trailing annual flowers you can choose from. They differ in colors, sizes, shapes and basic care requirements. You must be able to figure out which ones work best based on soil condition, weather and your capability to manage them.
13 of the Vibrant Trailing Annual Flowers
1. African Daisy (Osteospermum)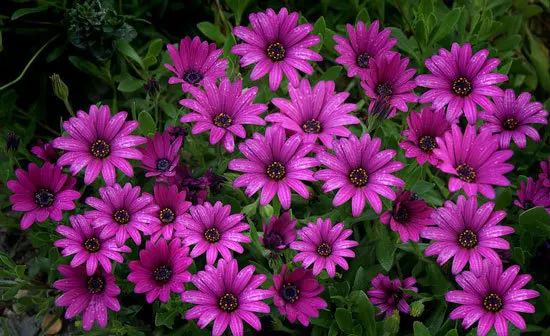 African Daisy, also generally known as Osteospermum, is a good example of a cascading or trailing flowering plant. This produces a splash of beautiful flowers that are purple, yellow, orange or white. As its name suggests, it is a type of daisy that is native to South Africa.
This plant needs to grow in a sunny area. It is able to tolerate drought and poor soil, but watering is still required. In addition, it needs regular deadheading to ensure it blooms longer from spring or summer up to frost. You may choose a variety that has the daisy-like petals or thinner spoon-shaped ones.
2. Ageratum
Nicknamed as Floss Flower, Ageratum features clusters of small, tuft-like flower heads, which are obviously fragile. The violet and blue are the most interesting colors, but there are also other shades like burgundy and white that may attract you.
This flowering plant grows best if placed in a partial shaded area. It can also tolerate full sun as long as the required water amount is observed. Since it grows less than a foot tall, it's recommended to plant it in a pot, box or other gardening containers.
3. Bacopa
If you like to minimize the flower display, Bacopa is a perfect choice. The reason is because it produces tiny five-petalled flowers. But with uncountable heads and cascading structure, it can still provide a pretty display.
Belonging to the genus Sutera, this flower has different variants, which are identifiable based on the flower and leaf colors. Some also have larger flowers.
This is a hardy plant that thrives in zones 9 to 11 and temperatures below 60. It needs partial shade to full sun. As one of the trailing annual flowers, it blooms once from spring to fall.
4. Begonia
The pink flowers of Begonia trailing along the edges or hanging up in the ceiling create a stunning view. Since there are other variants, you may choose yellow, white or red colored ones.
This blooms in summer and can extend up to fall. It requires partial shade to full sun. Apart from its pretty small flowers, it also attracts beneficial pollinators, including bees.
5. Creeping Zinnia
Creeping Zinnia, which is scientifically known by the name Sanvitalia Procumbens,is a pretty, tiny yellow flower. In fact, it looks like a miniature version of daisy.
Although small, the vibrant yellow color gives an astonishing display. Thus, one of the good and easily manageable trailing annual flowers to grow.
Bloons in early spring to late fall, this plant is low-maintenance. Minimal watering with full sun and without deadheading is the only requirement. It is able to tolerate heat and drought. This thrives in hardy zones 9 to 11.
6. Impatiens
Impatiens is among the cute, tiny trailing annual flowers you may also consider. It is known as Busy Lizzie that features brightly colored flowers. It is available in purple, red, pink, and white variants. This grows abundantly with regular water intake and if placed in a partially shaded area.
7. Lobelia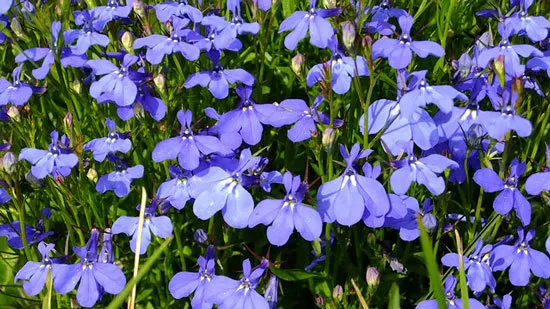 Available in blue, purple, lavender, pink and white, Lobelia is a summer bloom that grows in trail or cascading structure. It spreads out easily and fast, which makes it a good option to grow.
This thrives well in hardy zones 10 and 11. For best growth, it needs partial shade and slightly cooler temperature. When it reaches maturity, this can grow 3 inches in height or a maximum of 1 foot and spread up to 2 feet.
8. Million Bells
Million Bells are one of the most popular trailing annual flowers that you may choose because of their tiny pretty bell shaped flowers and the low maintenance requirement.
Another reason why this is a favorite flowering plant is because of the numerous variants to choose from. An array of bright colors include violet, purple, red, yellow, orange, white and bi-colored ones. Other names known are Calibrachoa, Callies, and Trailing Petunia since they resemble Petunia but only smaller.
This plant grows best in partial shade to full sun in hardy zones 9 to 11. It blooms great quality flowers without deadheading (it removes dead flowers by itself) starting in spring until frost.
Its matura height reaches from 3 inches to 6 inches only but with a surprising spread between 20 inches and 30 inches.
9. Nasturtiums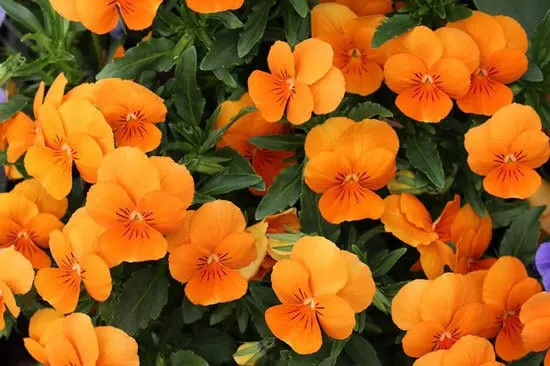 Nasturtium is another easy-to-care plant but among the trailing annual flowers, it's the most edible. Yes, you can add the flowers to any food as decoration that can be consumed. Of course, a plant like this offers a beautiful display whether grown in a pot or hanging on a basket.
There are red, orange, yellow, cream and bi-color variants of this flower. You may absolutely plant more than one variant to add colorful pop to your landscaping.
10. Nemesia
Another on the list of little maintenance railing annual flowers is Nemesia. It blooms profusely all long seasons of spring and summer. A much better idea if you regularly observe watering and deadheading.
This plant tolerates partial shade with mild temperatures. It grows only a foot tall or less. It has numerous variants, having different colors to choose from. Some of them are fragrant, which helps add some lovely scents to your surroundings.
11. Pansy
Pansies can surely stand out in a yard or a garden with an array of flowers. This annual flowering plant has beautiful flowers showcasing two different colors of petals.
You may choose any color from red to orange, yellow to white, purple to pink, or maybe all variants available you find. This plant grows best in cool climates with partial shade to full sun. It blooms in the winter and can tolerate frost.
12. Petunia
Petunia is also among the trailing annual flowers that offer a wide range of color variants, which includes violet, purple, pink, red, yellow and white. The bright color of the flowers create a pretty view.
This is best displayed in a hanging basket or pot. For better and abundant growth, it needs at least 6 hours of sunlight a day. However, it can tolerate humidity and hot weather.
13. Sweet Alyssum
Sweet Alyssums are short-lived trailing annual flowers. The white colored petals outshine the greens in any garden, although there are other colors like violet, purple and red.
Presenting a low-growing foliage, it produces beautiful tiny flowers that are sweet, honey-like scented. Whether from seeds or cuttings, it grows easily with low maintenance. It thrives well in an area with cool weather, tolerating light frost.
---
Conclusion
Are you amazed by the pretty and vibrant petals of these trailing annual flowers for gardening or landscaping? Which of these choices peak your interest the most?
Once you find the best flowers you think can be manageable with your own time and effort, the next best thing to do is figure out where to place them. Does it look better if hanged in a basket? Will you make your patio look more inviting with cascading tiny flowering plants?
Here's a bonus tip if you choose to plant some trailing annual flowers in hanging baskets or pots.