From a well-aligned lush green lawn to quirky statement pieces, proper garden lighting is the missing puzzle piece to create a blissful outdoor space.
Strategically positioned garden lighting allows you to enjoy the beauty of your landscaping even when dusk descends. They help highlight key decorative features and plants' texture while captivating a sense of tranquility and depth.
Before settling for a garden lighting idea, keep in mind functionality and ambiance. Whether you prefer a garden wrapped in a soft, ambient glow or be well-illuminated, these 12 garden lighting ideas are what you need for a perfect outdoor space.
Best 12 Garden Lighting Ideas
1. String Lights for Raised Garden Beds
Small string lights work best for raised garden beds and the gardening setup with a trellis. The lights offer ambiance and maximum illumination for checking on your garden at night without necessarily carrying a flashlight. If your lawn doesn't have a trellis, you can string these lights on planter posts at the corners of your garden bed or along the fence to get the same effect.
You can also attach a simple string of small bulbs along a terrace garden to create a pretty canopy. Use yellow light bulbs to add a magical touch to the whole setup.
2. Install LED Strip Lighting Along Edges, Steps, and Trees
LED strip lighting can create a focal point in your garden while providing maximum brightness. These lights are visually appealing and functional and come in a strip roll that you can divide into the precise length required. Most LED strip lights have weatherproof features.
You can set your Low Voltage Deck Lighting into the fascia board or under an overhanging edge to illuminate footpaths, edges, and steps. You can attach the strip lights around trees on the ground to highlight their unique features.
3. Spark Up a Firepit to Get a Warming Glow
Fire pits not only cast a lovely flickering glow but also provide added warmth enabling you to spend more time outside. You can even find firepit options that allow you to cook, giving you access to the best BBQ.
While fire pits do not offer the brightest light for your outdoor space design, you can pair them with other lighting sources like floor-standing lamps and festoon lights. Remember to include some cozy, comfortable furniture around the fire pit for gathering.
4. Stake Lighting for the Garden Pathway
Stake lighting illuminates the paved garden paths allowing you to safely access the garden, patios, and gazebos when the sun goes down. Consider using shaded stake lights for downward illumination to highlight plants and other garden features.
It is also a perfect solution for preserving the garden's serenity while protecting the eyes from bright beams during low light conditions. Most stake lights are solar-powered as they only require sun rays to light up the area.
5. Add a Glow with Globe Lights
Globe-shaped lights will not only make your garden glow at night but also create a focal point.
They add visual interest to the space and are an ideal option for a xeriscape landscaping plan or gravel gardens. Install these lights along the garden's top-tier areas or beneath plants to get spotlight illumination.
6. Use Statement Lighting to Provide a Focal Point
Statement lights are often subtle, highlighting specific garden features or offering an ambient glow. These lights cast a unique glow, drawing attention to their elegant shape and design details.
Garden statement lighting works perfectly with simple, low plants that don't make the space seem too busy or compete for attention.
7. Overhead Lighting for Seating Areas
If you have a seating area in your garden for relaxing, reflection, and entertainment, make it a comfortable spot at night by adding overhead lighting.
Your garden can benefit from various pendant lights, such as classic hanging lanterns, contemporary outdoor pendants, and frosted globe pendant lights, well-positioned over an outdoor seating arrangement.
The types and number of lights to install will depend on whether you need adequate lighting for enjoying dinner or soft night illumination in your outdoor oasis.
8. Install Ground-level Lights to Create a Silhouette
You can use ground-level lights to create a subtle lit backdrop to features in the garden. Ground-level lights generate striking silhouettes of plants, statues, trees, and other objects, highlighting their structure and form.
9. Install/Hang Some Lanterns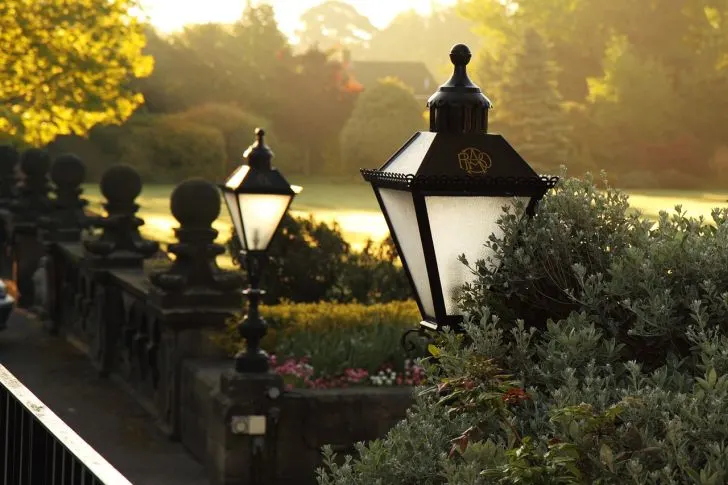 Consider installing/hanging your lanterns behind bushes or along hedges to receive soft lighting within the garden. While lanterns come in an extensive range of materials and styles, battery or solar-powered candle lanterns provide a classic glow.
Just ensure that the posts are at even intervals and know whether to allow your lanterns to hover above the plant's foliage or hang in the space between plants. You can use colored silk lanterns to bring accents of texture and color to your yard.
10. Go for Retaining Wall Lights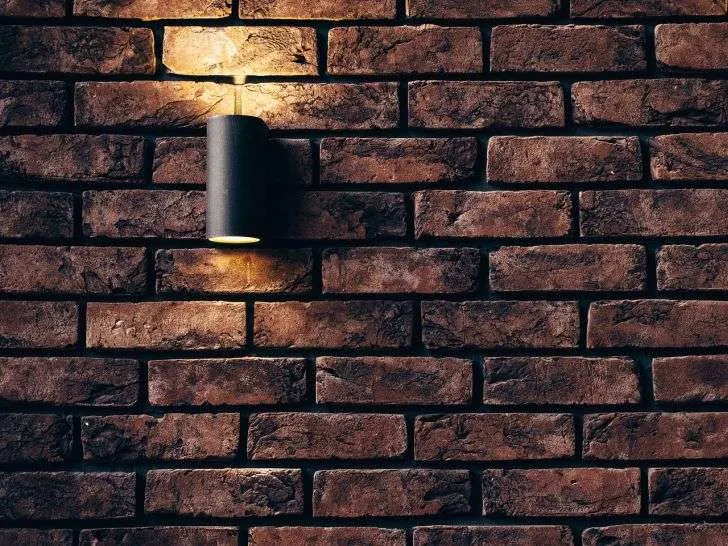 Consider building retaining walls if you are seeking to prevent erosion in your garden and furnish it with plenty of puck lighting.
Even space lights underneath the hedges of these retaining walls guide your nighttime guests through the space safely while displaying key plant features. Keep in mind that this garden lighting option calls for wet-rated LED lights.
11. Think about Water Garden Lighting
Alongside the water garden's soothing sound effect, lighting features can add to it a special spotlight. Your garden pond can have symmetrical lighting on one side of the center stepping stone to create visual interest.
These lights can help harmonize all the lighting features in the yard giving the entire outdoor space a cohesive lighting plan.
12. Strategically Position Modern Wall Lights at Your Front Door
Your front yard landscaping also needs proper illumination when night falls. Add wall lights at the two sides of the front door to create symmetry.
For instance, you can use modern black wall lights against white cladded walls to create a stylish statement while complimenting the door's design. Consider incorporating exposed bulbs to bring about a sense of industrial chic and pretty pink roses to give the scene an element of softness.
---
Conclusion
Whether you are seeking to light up your garden for safety reasons or want to highlight your landscaping features, these garden lighting ideas are what you need to get things moving.
You can use warm, soft ambient lights to highlight key features and create a relaxing atmosphere. Go for brighter, whiter lights if you want to boost visibility and deter intruders.