It takes only a few days of laziness or vacation or lack of maintenance for the grass in your lawns to grow really tall and unkempt. Though you may not like to admit it, the blades of the grass grow taller than you thought.
If you thought cutting tall grass is a complex process, you are mistaken. In this article, we will help you choose the best tool for cutting tall grass that stands tall in your lawns and gardens.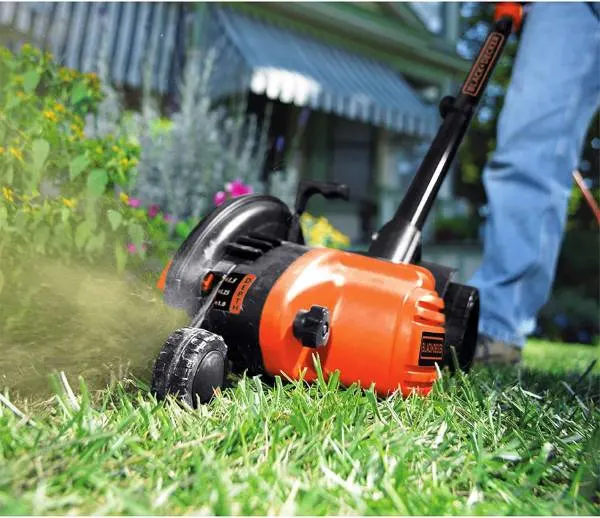 Different ways in which you can cut tall grass
Cutting and trimming tall grass is quite an easy process, provided you use the right tool and maintain your lawns properly. Here are the most common methods that people use for cutting tall grass today:
With the help of a lawnmower
With the help of a scythe
With the help of a string trimmer and lawnmower
How should you use each of them? Here is a brief overview of each of these methods:
1. With the help of a mower
This is the most commonly used tool across the globe for cutting tall grass. While it can be used easily on dry glass blades that have grown up to a height of 4 inches, they may not be as effective in cutting the tall blades of wet grass.
When using the mower on the grass, always remember to cut only one-third of the blades in a single attempt. Trying to cut down all the blades will cause unnecessary distress to the grass.
It is highly recommended to use mulching blades in the mower to stand up to the tall and sharp blades of the grass. You will not find much of a result with the regular blades that are usually used in mowers, especially when the grass blades have grown really tall.
2. With the help of a scythe
More often than not, it is very difficult to use a simple lawn mower to cut very tall grass. If due to unavoidable circumstances you couldn't tend to your lawn for a few months, you will be shocked to notice the height of the grass blades.
Your good old lawn mower will not be able to cut these tall blades. This is when you will need a scythe.
Though the name sounds a bit fancy, this instrument is fairly simple to use. It comes with a curved steel blade that is attached to a wooden shaft known as snath. All you need to do is to use the handles of the snath to use the scythe to cut the tall blades of the grass.
3. With the help of a string trimmer along with the mower
We told you in one of the earlier sections that a lawnmower alone cannot help you with cutting very tall grass blades. There is a simple workaround for this – you can attach a powerful string trimmer with the mower to get your job done.
A major advantage of using the trimmer is that it can be used irrespective of the pattern and height of the grass blades.
Next time, when you see your lawn being replete with tall grass blades, you now know which method to use to trim the grass blades and get your lawn back in shape again.
---
5 Best Tool For Cutting Tall Grass
1. Black + Decker 2-in-1 String Trimmer/Edger and Trencher

Overview
Black + Decker is one of the most reputed brands in the garden power tools market. This two-in-one trimmer and trencher is a great choice for you if you want to trim very tall grass blades and to maintain a perfect edge along with your lawns and gardens.
Pros
Comes with a high-power 12 Amp torque motor that helps you cut tough grass blades and trim robust turfs easily.
While you can use the edging mode for getting a straight and well-maintained edge on hard & tough surfaces, you can use the trenching mode for cutting the grass beds and making the borders well-shaped.
Very easy to dig over-grown trenches, thanks to the powerful motor.
Can be easily changed from a landscape trencher to an edger and vice versa.
Comes with a heavy-duty replacement blade to make things easy for you.
Cons
Some units start giving out a disturbing noise after a few uses.
Not easy to repair this particular model.

2. Worx WG896 12 Amp 7.5" Electric Lawn Edger and Trencher

Overview
Are you looking for a tool to cut the tall, overgrown grass in your lawns? Do you also want a tool that comes with adjustable shafts and heights so that it is compatible to be used with people of varying heights? If yes, you can consider investing in the Worx WG896 12 Amp Electric Lawn Edger and Trencher right now.
Pros
Comes with a 3-position blade depth, which helps you to get rid of very tall blades of grass as well, thereby leaving you with a clean, well-trimmed lawn.
How much grass should you cut? This is a big question in your mind when you start to trim the overgrown grass. This tool answers this question for you as it comes with a cutting line indicator so that you can trim the unwanted grass and weeds to precision.
Designed ergonomically with adjustable shafts and pivoting handle to suit the user's height, style, posture and convenience; this also gives you a lot of control when you are trimming your lawns.
Comes with Edger Guide Assistance to help you in finding out the exact edges where you need to trim.
Cons
You might face some issues when you first use this trimmer on thick, overgrown grass blades, but the tool gets smooth as you keep using it.
The blades are a little loosely attached to the unit, as a result of which it is likely to come off separately when you use it with a lot of force.

3. Remington RM1159 Walk-Behind High-Wheeled String Trimmer

Overview
This is an excellent choice of trimmer for you if you don't mind splurging on your tool and if you have sheets of thick, overgrown grass that cannot be reached by any other tool. This trimmer is a powerhouse of excellent features and benefits such as the following:
Pros
Powered by a 159cc OHV Gas Engine, which helps you get rid of the tallest, messiest and most overgrown grass blades and weeds.
Trimming to the exact level that you want is now a breeze, thanks to the 22-inch cutting swath that comes along with this tool.
If you have tough, hard-to-reach places and other rough areas in your lawns or gardens, this trimmer can help you immensely; it comes with an off-set trimmer head and 14-inch-ball bearing wheels, which ensure that the trimmer can be rolled into places that you wouldn't have been able to, otherwise.
When you aren't using it, you easily fold the handle and store the trimmer away in a safe location; it doesn't occupy a lot of space.
Cons
Some units give out a lot of smoke when they start and break off just after a few uses.

4. Toro 51480 Corded 14-Inch Electric Trimmer/Edger

Overview
This is a two-in-one trimmer cum edger and you can switch between the two functionalities within seconds. If you are looking to clean and trim your lawns with the perfect edges in real quick time, this tool will help you immensely.
Pros
Comes with a powerful 5-Amp motor that helps to cut through thick and overgrown grass & weeds.
Telescoping shaft and adjustable handle helps you reach hard-to-access areas and get a well-maintained lawn.
Comes with an assist handle that helps people of all heights to use this tool comfortably.
Trim line is automatically detected by the tool, thanks to which you can get a precise cut.
Shaft made from heavy-duty and durable aluminum that can withstand all types of weather.
Cons
Certain units are likely to break down quickly after a couple of uses; therefore you could get disappointed.

5. Remington RM115ST Lasso 5.5 Amp Electric 2-in 1 14-Inch Straight Shaft Trimmer/Edger

Overview
If you are looking for a trimmer that helps you trim and edge your small lawns to precision, the Remington RM115ST Lasso 5.5 Amp Electric 2-in-1 Straight Shaft Trimmer/Edger is a good choice for you.
Pros
Comes with an edging wheel which helps you trim and edge small lawns absolutely perfectly in real quick time.
Precise trimming and perfect grass cutting is possible thanks to the 5.5 amp electric engine and 180-degree rotating handle that provides you additional flexibility.
Comes with a 14-inch-dual line release that helps you trim and edge hard-to-reach areas; without this line, it would have been difficult for you to get a perfect trim.
Comes with a durable telescopic shaft that can be easily adjusted as per the heights of the users and folded when not in use.
Cons
Dual-line doesn't get released automatically as claimed; it needs to be pulled out automatically whenever there is a need.

---
Conclusion
The most important factor that you would look for in a tool that cuts tall grass is ease of use and durability. Even when you have not trimmed your lawn for a few months, your tool should be able to help you do this job quickly, precisely and effortlessly.​
After a deep analysis on all these fronts, we feel that the Black +Decker Two-In-One String Trimmer/ Edger and Trencher is the right choice for you. It comes sharp blades that help to cut tall grass blades easily, and it is also suited for rough & tough terrains, thereby giving you full value for your money.