What is Trimec?
Trimec is the product which combines 2, 4-D with Dicamba and Mecoprop. These three ingredients destroy broadleaf weeds like white clover devoid and dandelion without harming the lawn.
As a post-emergence weed killer spray, Trimec kills sprouting weeds that do not stay in the ground to prevent seed germination.
Trimec Crabgrass contains quinclorac, an additional ingredient which kills broadleaf weeds and crabgrass. Its feature kills crabgrass without damaging many grass species.
You need to avoid quinclorac products has centipede or St. Augustine grass. This product injures both types of grass. Quinclorac is harmless for all other turfgrass species at average application rates.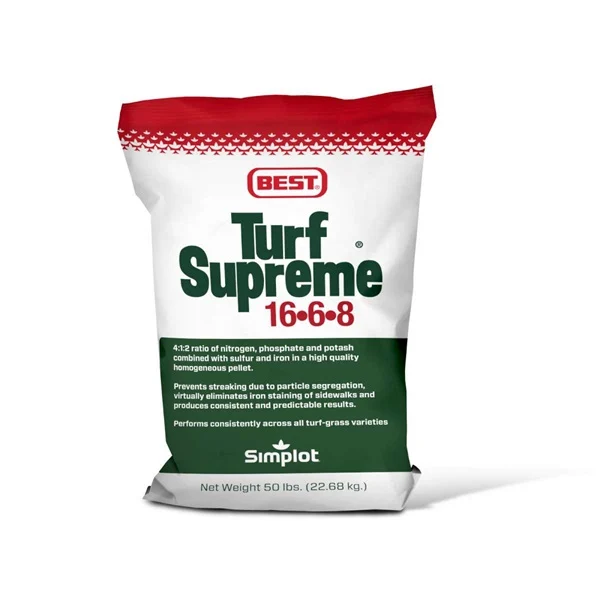 Best Turf Supreme 16-6-8 Plus Trimec
Best Turf Supreme16-6-8 plus Trimec is the premium homogeneous herbicide with the high-grade broadleaf effect. It has total nitrogen of 16%, phosphate of 6%, soluble potash of 8%, Iron of 1.5%, and manganese of 0.2%.
This product helps control different lawn weeds that include dandelion, knotweed, chickweed, plantain, spurge, henbit, and other broadleaf weeds mainly found in the lawns. In addition, turf supreme 16-6-8 plus Trimec supplies the plant with food and nutrients.
Possible retreatment can be essential if weeds heavily infest the lawn or extreme low moisture conditions take over, and weeds offer poor growth. The second application can be made in around 30 days.
The highest broadcast application rate per 1,000 square feet is 5.0 pounds per application. Essentially,
The maximum broadcast applications are restricted to two per year, with a minimum of thirty days between the applications.
Likewise, the maximum seasonal rate of the product per 1,000 square feet is 10.0 pounds.
At what temperature is Trimec sprayed?
Temperatures from 18 to 29 ℃ (65 to 85 degrees Fahrenheit) are excellent for applying Trimec. At temperatures beyond 85 degrees, the herbicide can evaporate before being absorbed. Even in hot weather, plants can develop waxy cuticles on the leaves resistant to herbicides.
Trimec applied in freezing weather is less operative because plants take less herbicide.
In the cold season, the metabolism of the plant slows down. Because Trimec chemicals should be transported via the plant's leaves, application work slow in cold weather. In cold weather, you can apply it to the plant at a slow trickle, which will not kill the weed.
How long before the rain should turf supreme 16-6-8 plus Trimec be applied?
Spray turf supreme 16-6-8 plus Trimec not less than 24 hours before it rains. This offers it time to work. Water or rain from the irrigation system may dilute Trimec or wash it off from the plant leaves, making it unusable.
A wind-free day is the best time to apply Trimec. This prevents rapid evaporation and over-spraying.
For the best outcomes, use Trimec in windless and arid conditions. Wind may carry Trimec droplets to plants you didn't intend to spray, hurting them.
The wind also increases the rate of evaporation of the liquid. Turf supreme 16-6-8 plus Trimec applied during windy conditions might evaporate before acting.
How frequent can you use turf supreme 16-6-8 plus Trimec?
You can spray turf supreme 16 6 8 plus Trimec about two times a year in one area. However, the application of Trimec must be not less than 30 days.
Too much use of Trimec in one part can harm the grass you are trying to protect. Follow the application rate from the manufacturer's instructions to avoid using excess Trimec at one time.
Trimec usually shows preliminary weed control results within 24 hours and completes weed control within 7-10 days. With a 3-herbicide blend, expect the weeds to begin wilting within about 24 hours of the appliance.
Note that Trimec is the general herbicide and takes time to eradicate weeds at the roots. Wait for not less than seven days after applying Trimec to get rid of weeds completely.
What weeds do turf supreme 16-6-8 plus Trimec control?
Standard turf supreme 16-6-8 plus Trimec, sold like Trimec weed killer, is a safe herbicide for broadleaf plants. It does not kill crabgrass, but it kills non-grass weeds. Whether thistle, dandelion, or plantain, Trimec can remove them.
It can kill broadleaf weeds like dandelion, chickweed, purslane, and clover. It does not kill desirable lawn or pest grasses. The product with the crabgrass can kill crabgrass and broadleaf weeds. Also, it is harmless to all preferred grass species except St Augustine and centipede grass.
For instance, if you need to kill broadleaf weed and crabgrass all at once, check for the Trimec product, which can kill them. Its compound will kill the broadleaf weeds like traditional Trimec, and as an added benefit, it also kills crabgrass. All of this is achieved without damaging the lawn in your garden.
How Much should Trimec one mix in Bermuda grass?
You need to mix about 0.75 ounces of Trimec in 1,000 square feet or 1 litre of water. If you need want to apply on young weeds that are actively growing, it may take 1 to 3 weeks before you see results. To control breakleaf, you must mix 0.75 ounces per 1,000 square feet to Bermuda grass.
How much turf supreme 16-6-8 plus Trimec should one use per gallon of water?
You must mark the area of 1000 sq. feet (i.e. 25 x 40 or 20 x 50 feet). Place a sprayer on a flat surface and then add water. Note the final water level inside the spray tank. Spray enough water on the marked area to ensure even coverage.
Fill the Trimec sprayer to the same point as before you measure the added water level. The water added to a sprinkler is the volume required to cover 1,000 sq. feet. Record the amount of product application rate (fl oz per 1000 sf) in the General Purpose part of the label for the product.
For every volume of water used, the amount of product specified in the step above is added and measured in number 3. For instance, If the sprayer uses two water gallons to make 1,000 sq. feet and the preferred application rate is 1.5 fl oz / 1,000 sf, you should add 1.5 fl oz for every 2 gallons.
How to apply turf supreme 16 6 8 plus Trimec
Mow your lawn to an average height of 1-2 days before application.
Thoroughly water the lawn for at least one day before applying to sustain moisture until the next watering.
Apply when the weeds are actively growing and young, preferably before noon when dew is still on the grass. Typically, if the grass is not wet during the application time, sprinkle with water lightly to let The granules adhere and remain on the weeds' leaf surface.
Don't wash the weed leaves 1-2 days after application. During this time, regular watering is required.
Best Turf Supreme 16-6-8 Plus Trimec Review
Best Turf Supreme 16-6-8 Dust-Free Plus Trimec

If you want an ultimate dust-free and homogeneous pellet, go for this turf supreme 16 6 8 plus Trimec. It is balanced as required by the leading research experts to about a 4:1:2 ratio and has about 1.5% iron, 16% sulfur, and 0.2% manganese. It is the experts' selection for use on landscaping, golf courses, cemeteries, schools, athletic fields, parks, and other green areas.
Equally important, it is the leading turf food combined with the broadleaf herbicide. It is used to allow for control of dandelions, clover, spurge, and other weeds, with broad leaves. Fertilizing your turfgrass becomes a straightforward application.
You will get active ingredients like 2,4-dichlorophenoxyacetic acid, Dicamba, and propionic acid. In a like manner, it contains all nutrients in every pellet that prevents streaking because of particle segregation, fundamentally eliminating the staining of concrete
It is a versatile fertilizer which works effectively on every variety of turfgrass and most of the most severe climatic conditions. Its application is recommended at a rate that can last about 4 to 5 weeks. A broadcast of 7½ lbs. is ideal for 1,000 square feet for a pre-plant.
Similarly, a broadcast of 3 lbs. is perfect per 500 square feet for the planting area for the groundcover. When dealing with shrubs and evergreens, you need to sprinkle ¼ cup uniformly around the plant dripline and work on top of the soil to about 1 inch.
On the other hand, if you want to apply it to the tree, use ½ lb. in every trunk diameter of 1 inch. Then you need to distribute consistently under the branches out to a dripline.

---
Conclusion
Best Turf supreme 16-6-8 plus Trimec is the unique herbicide that must be applied within 24 hours before lawn watering or rain. This allows it to dry out and fully penetrate the plant's structure.
Trimec is a strong herbicide, which should not be applied more than twice a year with not less than 30 days within applications.